Queens of the Stone age and Royal Blood at the State Theatre – Portland, ME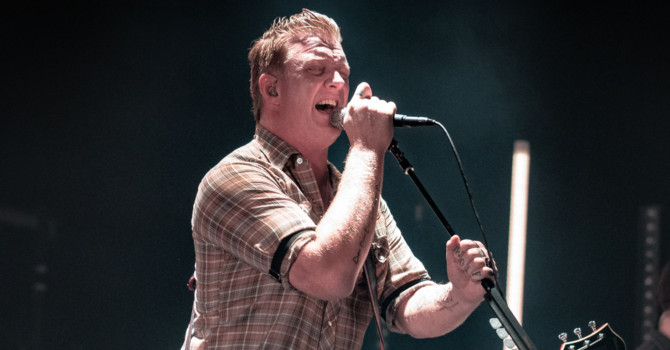 Photos and Review by Matt Congdon
Show photos HERE
I arrived an hour early and there was already a line. I thought to myself "Great I am going to be the last one in." At this point it was only 6:15pm, 45 minutes until doors opened. I could feel the energy of the fans as the line continued to grow. Finally, the doors opened and we began to move. At this point the line stretched 2 maybe even 3 blocks. I couldn't see the end. 7:45pm, I have my photo pass and I quickly made my way to the photo pit.
It's now 8:01 and the lights go down, the crowd erupts and Royal Blood walks out onto the stage as if it were their 100th time being there. Starting their set out with the song "Out of the Black" they had the crowd hooked. They ended their set with the song that made them the rock icon they have become, "Figure It Out."
The crowd was well warmed up for the highly anticipated Queens of Stone Age. Opening with my personal favorite "If I Had a Tail," I couldn't decide which was louder, the speaker I was standing next to or the shrills of excitement from the crowd. After shooting I had the chance to relax and really listen to this band live and I was blown away. Note for note the vocals were just as good, if not better, than the album. The level of musicianship each of these guys have is staggering and I was blessed to have been able to witness it. Queens of the Stone Age let's do this again very soon.