Robert Cray at the Portsmouth Music Hall – Portsmouth, NH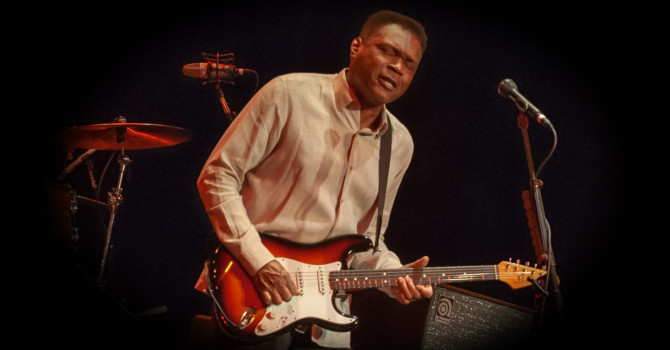 Photos and review by Colleen Goyer
Show photos HERE
Sunday night I had the pleasure of seeing Robert Cray for the first time at Portsmouth Music Hall. I have enjoyed his music since the mid '80's but have never had an opportunity to see him live before. I am happy to say that it was well worth the wait. His voice still has that clean/clear quality that is as much a signature as his incredible blues guitar playing. He rotated through a number of Strats over the course of the night and if I am not mistaken, one appearance of a Tele. Mr. Cray played cool, blues solos in nearly every song showing his mastery of the instrument and transporting the audience to a totally chill and relaxed state that only good blues can do. He also has a way of joking and entertaining the audience in between songs that fits well with the relaxed vibe.
Solos were not isolated to Mr. Cray however; Dover Weinberg on keyboards contributed several solos. Richard Cousins on bass had a few of his own and drummer, Terence Clark, had several key moments throughout the evening. Every one of the band members made huge contributions and they blended and played off each other giving the concert a true jam feel that again is a signature of the blues.
The evening was close to 2 hours of music with Right Next Door, You Must Be Yourself, Nothin' But A Woman, Strong Persuader and Phone Booth amongst the collection.
The Portsmouth Music Halls intimate size was the perfect venue for this type of concert and the crowd was filled with long time Robert Cray fans. Theyshowed their appreciation for each song with enthusiastic applause.
I am definitely glad I got to see him live and would not hesitate to do so again. I will also be adding some of his music to my current play lists. If you like blues, definitely check him out if you have the opportunity.