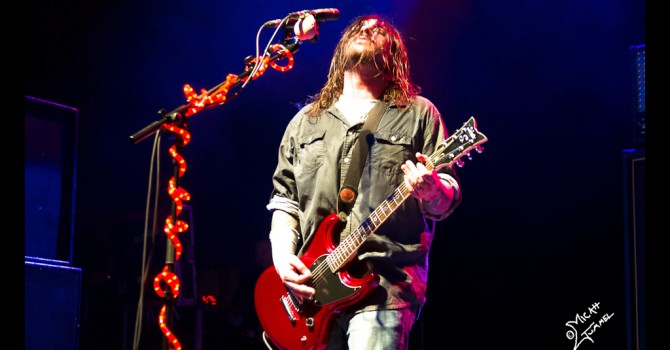 April 20th 2012.
Venue: State Theater, Portland, Maine.
Review and Photography by Micah Gummel.
Sidecar Radio, A Great Opener!
Opening up for Seether tonight, for an unexpected surprise was Sidecar Radio.  Here in New England, Sidecar Radio has become one of the most versatile and interesting bands. They play in just about any roadhouse bar or rock club with an audience that likes to get fired up and seemingly manages to increase their wattage every year. Similar to Seether, they are  a three-part group with aggressive sound and high energy that's incredibly invigorating when you experience them.
Seether, Live!
Seether is a South African Alternative/Grunge/Metal band. Known for hits like "Broken" and "Remedy," or off their recent album, Holding Onto Strings Better Left to Fray, a personal favorite that's rising in the charts, "Country Song."
The back drop of the setting was the album artwork of Holding Onto Strings Better Left to Fray. This is the fifth studio album by Seether.  The drum set was front and center with two mikes each wrapped with a strand of red lights. It was a simple setup, allowing no distractions to deter the focus of the band.
It's been several years since the Seether graced northern New England with a live show. An hour and thirty minutes before the doors opened, the line to get up to The State Theater, was 150 people deep! All were eager to get there fix of Seether.
Seether fans had great hopes of an awesome rock show. Due to the departure of guitarist Troy McLawhorn, they are set up as a three piece act once again. Front man, Shaun Morgan, rocked the rhythm guitar along with his signature vocals . Opening with 'Fur Cue,' marked by striking riffs and not missing a beat, he rolled into 'Gasoline.' This stoked the crowd even more and only a couple of songs later he delivered 'Fine Again,' which sparked the crowd to sing along. Now the volume was maxed out, or so I thought, until bassist, Dale Stewart, pulled out the acoustic guitar and played one of Seether's signature songs, 'Broken.' This allowed Shaun to step away from the microphone, allowing the crowd to sing some of the verses. This was a cool vibe! It is such a good song!
Later, a solo version of 'Gift' delivered by Shaun was dedicated to some friends of the band for their 25th anniversary. As he finished, the crowed erupted into an mammoth applause.
Closing out the night, 'Fake It' and 'Remedy' were the last songs. There was jumping, fist pumping and singing from every angle of the room, and most definitely a perfect way to end a killer rock show. The crowd stayed, hoping for an encore set, but the house lights rose and security led them to the doors. This was a great show. The guys of Seether love what they do which was felt to the core by their energized fans!
From the Rail Riders:

Fan 1: I don't know if it was a joke or what but Shaun's mike had a set of nuts hanging from it, so it looked like there were nuts on his chin the whole night. I was cracking up it was so funny.

Fan 2: We were surprised few people crowd surfed and some were moshing I think seeing them in a small venue truly made the fans take it all in and see the genuineness of the band and there dedication to give a truly memorable show. If you can pass this on to the band "Great job come back soon!"

Fan 3: John's Drum solo was IN-SANE ! SICK ! TRIPPY ! OUT-GRAGIOUS ! Strobe lights were flashing crazy, like they were on acid itself! The drummer John, was just unbelievable, his hand work was impeccable!.
SET LIST:
Fur Cue
Gasoline
Needles
Fine Again
Driven under
Broken
Gift (Solo by Shaun only)
Drum Solo
Breakdown
Tonight
Country Song
Rise Above This
Fake It
Remedy
For more information about Seether, visit their website at: www.seether.com