Shakey Graves at the House of Blues – Boston, MA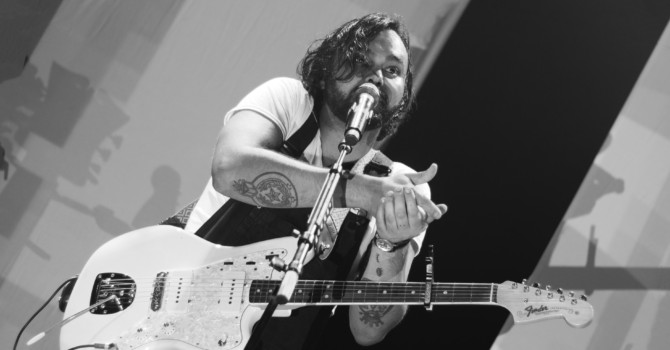 Photos and Review by Eric Pennell
Show photos HERE
It was a sold out show at HOB Boston on a Wednesday night when Shakey Graves took to the stage. His first two numbers were solo; just him, a guitar and his suitcase kick drum. This was the Shakey Graves style I first heard and saw several years ago while scouring the internet for new artists. His raw finger-picking style, hollow-body electric and overdriven amp provide a raucous contrast to his emotional, folky, flowing lyrics. He has a pensive, quiet demeanor (at first) that demands your focused attention. His music is a bit country, which taps into his native Texas roots, then expands into a lush canopy of rock n roll, blues and folk (to name a few influences).
The solo effort broke in the crowd and then the rest of the quartet joined; drummer Chris Boosahda, guitarist Patrick O'Conner and Bassist Jon Shaw. To say the intensity increased would be a wicked understatement; I have to wonder how many drum heads Chris goes through during a tour. Patrick O'Conner was absolutely nasty on his hollow-body electric and the occasional solid-body. Jon Shaw was working double-time on bass and keys. All members provided vocals giving the songs fantastic harmonies.
Shakey Graves latest album, 'Can't Wake Up', was featured prominently throughout the show. The songs explore, among other things, sleep and growing older. There was also heavy rotation from his other albums, including, 'And the War Came' and 'Shakey Graves: And the Horse He Rode In On" and many other songs which were new to me. Songs from 'And the Horse..' which is an (entirely?) acoustic album allowed the bands intensity to wax and wane, pushing and pulling the crowd along with them. The end of the show featured another solo set with acoustic guitar before leaving the ecstatic Boston crowd.
To learn more and see some great live performance online check out:
https://shakeygraves.bandcamp.com/
https://audiotree.tv/session/shakey-graves-2?rq=Shakey%20graves
The Band
Shakey Graves (aka Alejandro Rose-Garcia) – Guitars, Vocals
Patrick O'Conner – Guitar, Vocals
Jon Shaw – Bass, Keys, Vocals
Christopher Boosahda – Drums, Vocals