Steve Aoki at the Worcester Palladium – Worcester, MA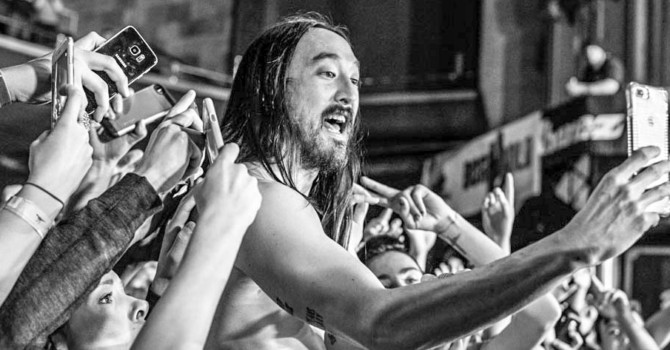 Photos and Review by Richard Knowles
Show photos HERE
Steve Aoki is currently one of the biggest names in the electro house community and someone who has made a name for himself by putting on one of the most energetic and heart pounding sets out there. I had an opportunity to witness this first hand at the Worcester Palladium and in the process became a huge fan.
Saying I know the first thing about this music genre is a massive overstatement but you'd have to be hiding under a rock to not know who Steve Aoki is. I had heard going into the show that his energy and interaction with the crowd really make for a great fan experience, but what i got far exceeded my expectations. I've covered shows like this in the past and have struggled to grasp the hype surrounding this wildly popular genre but it wasn't until this night that i truly appreciated the artistry and showmanship that one of the best in the business can bring.
There were multiple highlights of the night. One in particular and one that triggered the old school grunge kid in me was when a sample of "Smells Like Teen Spirit" began blasting through the venue and got the crowd going crazy. Another fun moment was when he emerged from the booth to come out and bathe the audience in champagne while stopping and resting his body on the crowd to take a selfie. The one that takes the cake (pun intended) was when he brought out about a dozen cakes and began throwing them at the crowd. I had heard that this was a trick the DJ had up his sleeve, but nothing can prepare you for the utter chaos that ensues when Steve Aoki throws a cake. Seriously, the crowd was going nuts.
After the cake cleared and I had removed the delicious frosting off my beard it was time to close the set, but honestly I didn't want it to end. If you get an opportunity I implore you to catch a Steve Aoki set. You will not be disappointed. If you are, stand close and you'll at least leave with dessert.