Stryper at the Tupelo Music Hall – Derry, NH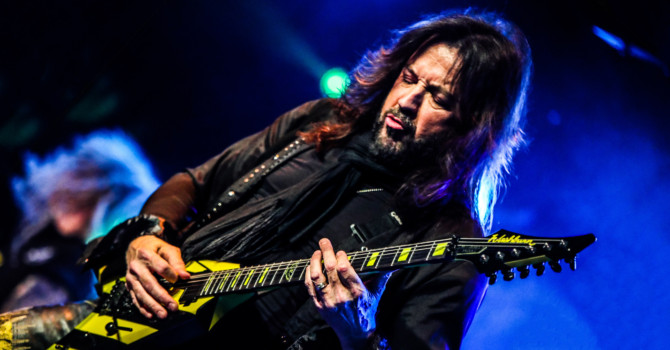 Stryper brings their 2nd leg of there God Damn Evil tour to a sold out crowd at Tupelo Music Hall. The band is Michael Sweet (vocals), Robert Sweet (drums), Oz Fox (drums), and newest member Perry Richardson (bass).
They hit the stage to a standing and cheering crowd. Song after song of new and old classic hits get the crowd worked up with songs like Soldiers Under Command, In God We Trust and Calling On You.
The band sounds fantastic just like 30 years ago. Michael's voice hits every note. Robert doesn't miss a beat on drums and Oz shows every one that he's back to full strength with every lick of the guitar.
As Perry pounds away on bass the band pulls their signature move and starts throwing bibles out into the crowd, along with a good dose of guitar picks. It's funny watching adults get excited about nabbing a bible or pick.
The band played a 90 minute set without a break, singing and joking with the crowd. The audience kept singing along to every song.
We finally come to the end of the set as the band kicks off To Hell With The Devil. The crowd tries to out-sing the band as they stand and cheer. The band thanked everyone for coming out to the show to a standing ovation. As one person told to me "This is the best the band has sounded and a fantastic line up." It was truly another awesome rock show.
Yahweh
The Valley
Calling On You
Free
More Than a Man
All For One
Revelation
In God We Trust
Always There For You
Surrender
Sorry
Soldiers Under Command
God Damn Evil
Sing Along Song
The Way
Holding On
Loud 'n Clear
To Hell With the Devil