Summerland Tour 2013 Hampton Beach Casino – NH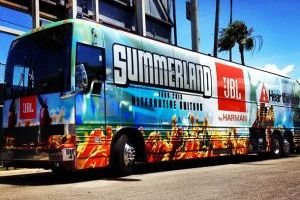 Photos by Micah Gummel
Review by Micah Gummel
Sponge Photos HERE
Filter Photos HERE
Live Photos HERE
Everclear Photos HERE
It's been said that the '90s were the last great time to be in a rock band. Before Napster, iTunes and Spotify, modern rock albums or perhaps Cd's (when was the last time you bought a CD?) regularly topped the charts and sold millions of copies, even those that had only one or two good songs. When back in the day all it took was one smash radio single and you were in big!
As the temperature soared to what felt like 200 degrees in the Casino Ballroom, the Summerland Tour kicked into gear. This year's line-up featured some of the top alternative '90s bands in including Everclear, Live, Filter, and Sponge. Lead singer founder of the Summerland Tour, Art from Everclear was the host of the evening and introduced all of the bands onstage.
Art from Everclear introduced the band first band to hit the stage. Sponge from the rock and roll capital of the world Detroit, Mich. It shows by there hard, gritty, and catchy. Lead singer Vinnie Dombroski is a dynamic front man. Sporting a cool hat, displaying great showmanship. Highlight of the set was the hard hitting "Molly"(Sixteen Candles Down The Drain)" and the poignant and "Have You Seen Mary." Sponge is one of those bands that keep delivering good quality albums. In fact they have recently released their latest Stop The Bleeding. Sponge also performed one new song from the release called "Fade To View," It had a great upbeat hard driving melodic beat that I will have to check out.
Next was Filter fronted by Richard Patrick the bands set was very intense the crowd as in to it by now. Richard was working the crowd sharing his history.Richard Patrick, guitar player Johnny Radtke, along with bassist Phil Buckman and drummer Jeff Friedl are ready to make a full return into the public's eye with the new album "The Sun Comes Out Tonight" Richard hinted that the band may be back as a headliner to the Casino Ballroom the fans were loving the possibility!
Next up Live performed a killer set with new singer Chris Shinn. Who sounded great and the fans loved him. One of great moment was when the set sparked an impromptu sing along on the last song "I Alone." Members of Filter, Everclear, and Sponge also joined Live onstage for this song.
The show ended with Everclear. It was so great to see the line-up that Art put together for the 2013 tour. It really showed the great teamwork between the musicians and their love for the fans. As they were in the day Everclear has a great alternative punk funk sound. The set ended with their hit "Santa Monica", as Filter, Live, and Sponge joined them onstage for a grand finale.
It was refreshing to hear some of these classic alternative hits being performed. We are looking forward to the 2014 lineup!
 Sponge 
Filter 
Live 
Everclear