Taylor Swift Rocks Gillette Stadium – Foxborough, MA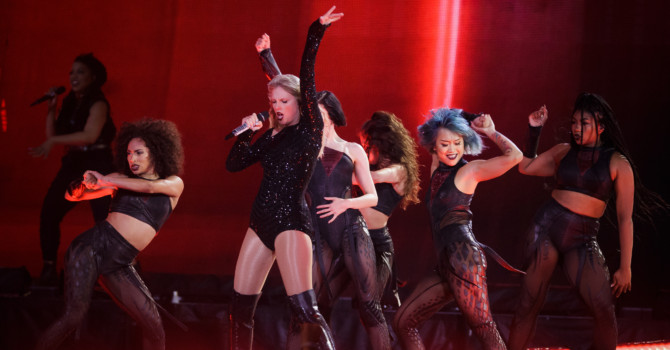 Photos and Review by Ilya Mirman
Show photos HERE
Last time I saw Taylor Swift was in 2015, during the 1989 World Tour.  Selling out two nights at Gillette Stadium – not an easy feat – Swift set a high bar for the energy, production value, and fan engagement.  And so I'm happy to report that 3 years later, the bar keeps going up.
Though staying true to her core message of empowerment and acceptance, Taylor's image is evolving – not a reinvention, but an evolution driven in part by recent life experiences, as she explained:
"A couple of years ago, someone called me a snake on social media and it caught on.  And then a lot of people called me a lot of names on social media. I went through some really low times for a while because of it. I went through some times when I didn't know if I was going to get to do this anymore."

"I wanted to send a message to you guys that if someone uses name-calling to bully you on social media, and even if a lot of people jump on board with it, that doesn't have to beat you. It can strengthen you instead. I learned a really important lesson and that has to do with how much you value your reputation. And I think the lesson is that you shouldn't care so much if you feel misunderstood by a lot of people who don't know you, as long as you feel understood by the people who do know you."
To defang the bullies, Taylor turns the "snake" thing around – embracing it and owning it, incorporating it lyrically and as part of the stage set.
It is not easy to sell out multiple nights at Gillette – and with the Reputation Tour, Swift sold out three nights, with an amazingly strong reception from seemingly every stadium seat and demographic.  And while her core fanbase of young girls and teens is still firmly there, there's a broadening of the base as Taylor grows older and reaches a larger and more diverse audience.
With three stages – a main stage and two satellites at the opposite end of the stadium – delivering increased engagement with much of the audience, the entire stadium pulsed with excitement for the 6-act, 20-song set spanning Taylor's full catalog.
The Reputation Tour continues – catch it if you can! https://www.taylorswift.com/events
Set list
…Ready for It?
I Did Something Bad
Gorgeous
Style / Love Story / You Belong With Me
Look What You Made Me Do
End Game
King of My Heart
Delicate
Shake It Off
Dancing With Our Hands Tied
22
Blank Space
Dress
Bad Blood / Should've Said No
Curious
Don't Blame Me
Long Live / New Year's Day
Getaway Car
Call It What You Want
We Are Never Ever Getting Back Together / This Is Why We Can't Have Nice Things