The B52s at Aura – Portland, ME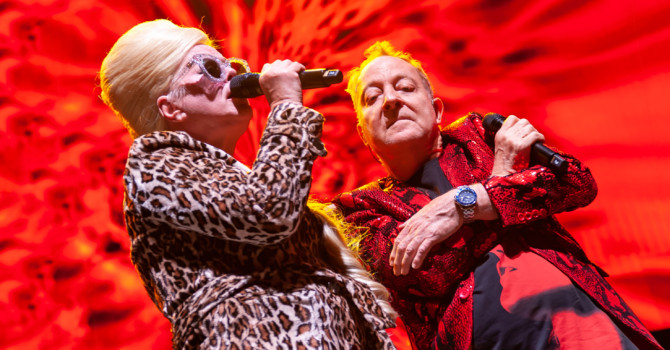 Photos and Review by Colleen Goyer
Show photos HERE
The B52's performance at Aura in Portland Maine on June 3rd was every bit what you would expect. A party atmosphere, costumes and iconic hairstyles were all in place. Although some of the band members were different, the primary members remained the same, as did the sound with 2 guitars, keyboards, drums, bass and bongos. Each song performed was true to the original arrangement. With so many hits over the years, the most well known ones, Planet Claire, Roam, Cosmic Thing and many others made up the set list. It would not be a B52's concert without Rock Lobster and the crowd did not go away disappointed.
Fred Schneider, Kate Pierson and Cindy Wilson played to the crowd and moved about the stage to pair up for vocals. Bass player Tracy Wormworth often joined Kate and Cindy with the three moving about the stage together.
The band moved quickly from one song to the next maximizing the number of songs that could be performed during the 1+ hour set.
The tour continues for the next several months moving across the country.