The Dark Desert Eagles at the Blue Ocean Music Hall – Salisbury, MA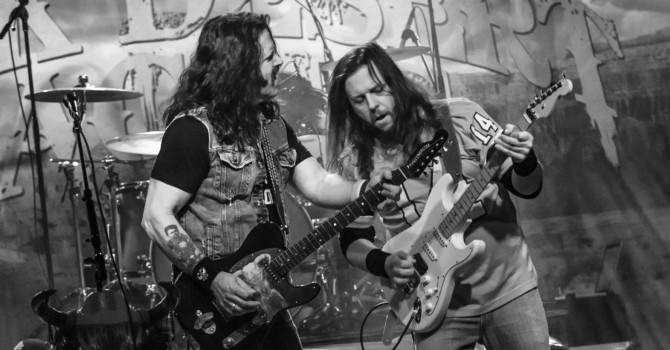 Photos and Review by Colleen Goyer
Show photos HERE
Eagles tribute band, Dark Desert Eagles brought the audience at the Blue Ocean Music Hall back to the 1970's with a full night of Eagles hits: Peaceful Easy Feeling, Hotel California and too many others to list here. The prolific rock band provided no shortage of material and DDE has done a great job of both playing the music and simulating the appearance and interactions of the original band. Looking at the group, it is easy to know who each member is portraying. Pat Badger, the bands front man, plays guitar and a large part of the lead vocals. Kevin Figueiredo fills the Don Henley roll on drums. Chris Lester, wearing the Joe Walsh trademark bandana, is on guitar, some lead vocals, and occasional keyboards. Eric Clemenzi does the majority of the guitar solos and Tom Appleman is on Bass.
Several times during the night Clemanzi and Lester would face each other while playing key song sections reminiscent of Felder and Walsh. Badger did most of the talking thought the night with many stories and jabs at other members aligning to the history of the Eagles. Anyone who has seen the documentaries about the group can see the connection.
As with the band they portray, there was no shortage of guitars on stage. Tele's, Gibsons, 6 string and twelve string acoustics, and one very nice double neck which Clemanzi put to good use.
The Eagles were known for rich harmonies and great guitar playing producing full rich sounds that few groups can match. DDE has worked very hard to achieve that sound doing a great job. All the classic riffs, solos, drum fills, and vocal harmonizing are there. The members of this group are all very accomplished musicians. Badger, an original member of the successful group Extreme, Figueiredo also a former Extreme band member, Clemenzi a Berklee graduate and Appleman a Berklee professor. Lester rounds out the band with great skills on multiple instruments and vocals. All band members contribute to the harmonies.
DDE has amassed a large following with shows like the sold out night at Blue Ocean Music Hall. They have a number of upcoming New England area shows scheduled in MA and NH with a big one in April at The Hampton Casino Ballroom. If you like the Eagles, '70s music or even just great guitar playing and harmonies, definitely check them out, but get your tickets early.