The Indigo Girls at the Portsmouth Music Hall – Portsmouth, NH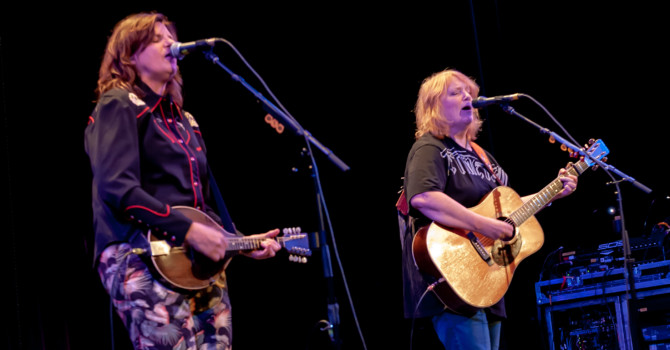 Photos and Review by Colleen Goyer
Galleries: Indigo Girls, Michelle Malone
The Indigo Girls performed at the Portsmouth Music Hall on May 18th.
Singer-songwriter Michelle Malone, who is also from Atlanta, opened the show. Michelle performed for 45 minutes with her band including drums, bass and a second guitar player. Her performance was very energetic with a great blend of country, rock and folk. At the end of the show, she also joined IG for one of the encore songs.
The Indigo Girls played for a full 2 hours including a 2 song encore in response to crowd request. Amy and Emily were joined by violinist Lyris Hung for the entire performance. The violin filled in the sound wonderfully and her solos were fantastic.
The blend of Amy and Emily's playing styles and harmony was true to their original sound. Both Indigo Girl's played mandolin at different times with some electric guitar and harmonica thrown in here and there as required. They played a great mix of old hits and fan favorites including Power of Two, Kid Fears, and Closer to Fine. Music from their newer releases rounded out the playlist. Emily performed one song from her new and first solo effort.
During Kid Fears, the audience was called upon to fill in the harmony originally performed by Michael Stipe of REM, which they did with out any difficulty. Portsmouth Music Hall's smaller size made this a very intimate, relaxed evening. The audience really got into the music, signing and dancing in the small area at the front of the seating. It is entirely understandable how this was a sold out performance.
Indigo Girls
Michelle Malone