The KillThrax Tour at the House of Blues – Boston, MA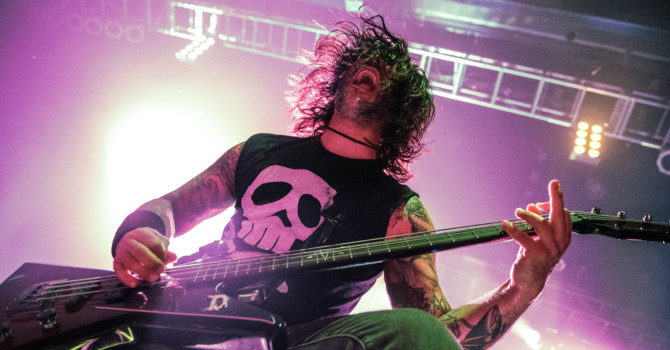 Photos and Review by Bethany Anna Packer
Galleries: Killswitch Engage, Anthrax, The Devil Wears Prada
Killswitch Engage and Anthrax wrapped up their appropriately dubbed The KillThrax Tour this week in Massachusetts, the home state of Killswitch, at the House of Blues Boston.  As one of the most highly anticipated heavy metal tours of early 2017, the show was sold out by door time with a line of fans skirting Landsdowne St. well before the venue was open to the public.
Preceding thrash metal royalty Anthrax and metalcore powerhouse Killswitch Engage was Ohio bred metalcore favorites, The Devil Wears Prada.  Mike Hranica and his band were the perfect choice to get the crowd ready for the night full of metal  greatness that was about to ensue.  As usual, TDWP put on a solid and high energy performance, and they quickly brought life to an already packed house that had come early to catch their set.
Next up it was time for legends Anthrax to blow the roof off of the House of Blues.  After over 35 years in the business, it is crystal clear why the group has gained reputation of putting on an unforgettable live show.  Anthrax stormed out of the gates as the crowd erupted into a frenzy, opening their set with "Among the Living" followed by some of their biggest hits right off the bat including "Madhouse" and "Caught in a Mosh".  My personal favorite was when they jammed out mid-set to a cover of the Stormtroopers of Death song "March of the S.O.D."  Sweaty and spent, it was clear the group left every single thing on the stage for their last night of the tour as they wrapped with an 80's Anthrax classic, "Indians".
Closing the night was Killswitch Engage. From the moment they took over the stage in their home state, they owned the crowd.  Lead vocalist Jesse Leach (who returned four years ago after a decade-long absence) had fans hanging on every word as the group opened with the heavy and catchy "Hate By Design".   Killswitch always puts on an amazing live show, and this was no exception. Their energy stayed at %100 throughout the set as they performed a good mix of new material and older hits. Killswitch's set ended with a bang with an epic cover of the Dio's "Holy Diver" that had the crowd going insane.
The Killsthrax Tour certainly wrapped at full speed in Boston and the perfect combination of metal goodness has unfortunately come to an end, however as Anthrax's Scott Ian suggested "Maybe we will see you for Killthrax Two!".
Killswitch Engage
Anthrax
The Devil Wears Prada