The Lynch Mob at The Wolf Den – Uncasville, CT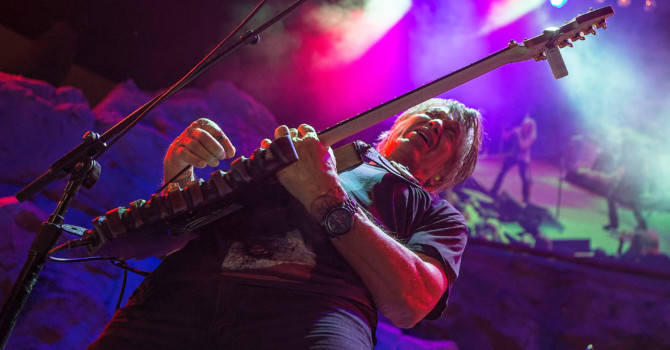 Photos and Review by Tom Bogus
Show photos HERE
The Lynch Mob blew the roof at Mohegan Sun's Wolf's Den on Thursday night, March 15 2018. The line-up this time around was George Lynch on guitar, Robert Mason (Warrant) on lead vocals, Scot Coogan (Ace Frehely) and Sean McNabb (Dokken,Great White) on bass guitar. George picked some talented musicians to bring on tour.
They started the night off by playing 3 songs off their debut cd from 1990 called "Wicked Sensation." The opening song was "Street Fightin' Man" followed by "She's Evil But She's Mine" and "River of Love". During a short break, Robert said Hello to the audience and thanked them for coming out to the show. George made a guitar change from his Burnt Tiger guitar to a Gibson Les Paul. They played "Tangled in the Web" from their second cd titled "Lynch Mob." Later on in the set they played 5 classic Dokken tunes "When Heaven Comes Down", "It's Not Love", Mr. Scary, Alone Again and "Tooth and Nail" Robert Mason's vocals on the Dokken tunes were on point. They ended the night with a 12 minute jam version of "Wicked Sensation"
I've been a long time fan of George Lynch's guitar playing and every time I see him live, his playing amazes me. I thought the choice of songs was great, but I am surprised they only played songs off of just the first 2 Lynch Mob cd's. No complaints here. Those are my 2 favorites.
SETLIST:
1- Street fighting Man
2- She's Evil but She's Mine
3- River of Love
4- Tangled in the Web
5- All I Want
6- When Heaven Comes Down (Dokken)
7- Sweet Sister Mercy
8- It's Not Love (Dokken)
9- Mr. Scary (Dokken)
10- Alone Again (Dokken)
11- No Good
12- Tooth and Nail (Dokken)
13- Wicked Sensation