The Music of Cream at the Lynn Auditorium – Lynn, MA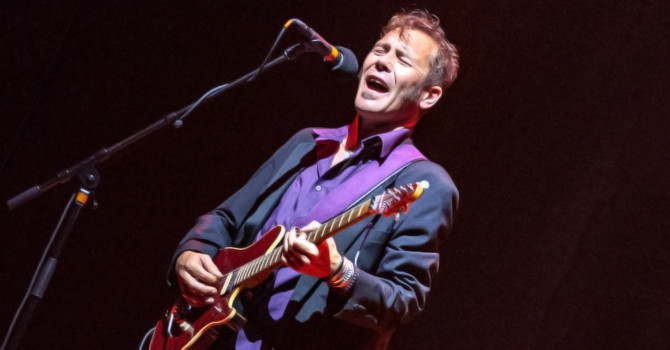 Photos and Review by Colleen Goyer
Show photos HERE
The Music of Cream, comprised of Ginger Baker's son Kofi on drums, Eric Clapton's Nephew Will Johns on guitar and Jack Bruce's son Malcolm on bass, performed at the Lynn Auditorium. The evening was filled with a combination of the music of Cream, projected images of the original band members and personal anecdotes from each of the performers about their respective relatives.
Bruce shared that his mom was responsible for her fair share of the music, including occasionally writing with Baker. Johns shared stories of visiting uncle Eric and how the legendary guitarist suggested he learn a "proper" instrument after listening to him play around with the drums. John's obviously took to the new instrument and is himself a very skilled blues guitarist.
In fact all three are skilled musicians in their own right and have performed and toured over the years as part of other groups. In short, they are more than relatives playing their famous connections music but are experienced musicians with good performance skills to engage the audience and with the addition of the videos and stories it makes for a very unique experience.
They performed many of the classic Cream songs including, Sunshine of Your Love, Strange Brew, Crossroads, Tales of Brave Ulysses, Born Under a Bad Sign, Spoonful and White Room to name just a few.
The concert consisted of two roughly one-hour sets with an extended intermission between, during which a video about Cream was shown. The video itself provided insight into the band and its members and was an interesting addition to the concert especially with the performance not being from the original members.
The solos were very good, many done by Johns as he was filling the Clapton roll. Baker performed a 10-15 minute solo for which Johns and Bruce left the stage, allowing Kofi to hold the entire spotlight. Kofi had a dual bass drum kit, as his father was known for, but added his own flair with many more components than were in the original Cream set-up.
The group continues the 50th anniversary tour and is worth catching if you are a fan of either cream or psychedelic music. The band is selling cd's to accompany the tour with their own recording of the Music of Cream.