The Sheepdogs at the City Winery – Boston, MA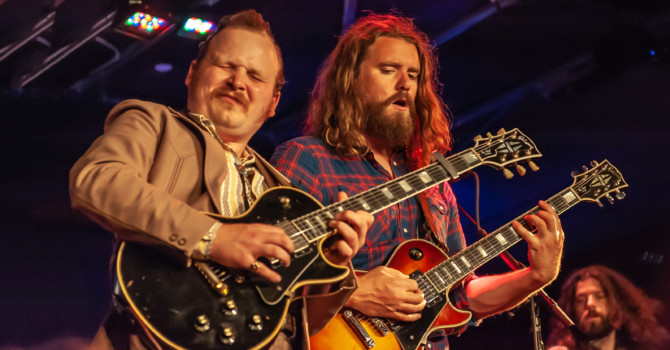 Photos and Review by Colleen Goyer
Show photos HERE
Canadian, blues/southern rockers, The Sheepdogs were in Boston this past weekend and performed to a wide age range crowd at City Winery. Lead singer and guitarist, Ewan Curries' relaxed, rich voice was a perfect fit for the style this band performs. Jimmy Bowskill, lead guitarist, did some amazing solos as well as harmonizing guitar duets with Currie that were awesome and something not seen with many bands, at least not I have seen recently. Throughout the night the audience would call out "JIMMY" and made it pretty obvious that his skills on electric and pedal steel guitars are totally appreciated by the bands fan base. Bowskill was not the only band member showing his multi-instrument capability with Shamus Currie, brother of Ewan, playing keyboard, tambourine, guitar and trombone over the course of the evening. The Sheepdogs were completed by Ryan Gullen on bass and Sam Corbett on drums with all members sharing backup vocal work.
Gullen made the observation that even though the venue at first would seem to be a bit more of a refined atmosphere than their usual gigs, the crowd was partying and definitely as involved as their usual crowds. I've Got a Hole Where My Heart Should Be, Southern Dreaming and its sister song written by Ewan about his home country, Up in Canada, were included in the hour or so of music performed Sunday night.
I wasn't very familiar with them before Sunday but really enjoyed the music and guitar playing, I was missing out on a very good southern rock band and will definitely be listening to them from now on. Absolutely a show worth checking out!