Theory (of a Deadman) at the Hampton Beach Casino Ballroom – Hampton, NH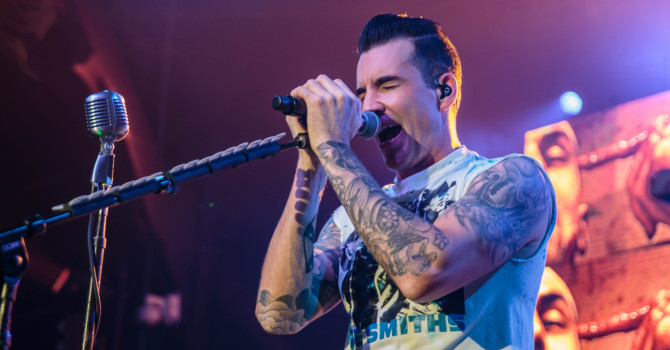 Photos and Review by Jeff Palmucci
Galleries: Theory (of a Deadman), Wilson
Theory of a Deadman swung by the Hampton Beach Casino Ballroom last week to play a sold out show. There's nothing better than a summer night at the strip on Hampton Beach. It was a beautiful night, and I decided to take my bike up to shoot the show. Although I had to lug a heavy backpack up with all my photo equipment, it was an excellent ride and well worth it. Plus, when you get there, $5 parking for motorcycles. Score!
That strip at Hampton Beach is always hopping during the summer. There's a festive atmosphere all around, with people hanging out at the bars and restaurants, and kids having fun at the arcades. Into all this, the Casino Ballroom brings a steady stream of great bands to the party, and that night was no different.
The first band I caught that night was Wilson. They're make a great pairing with Theory of a Deadman. Like TODM, they're hard rock and high energy with some pretty great lyrics to go along with the music. Check out their new release "Like a Baller" they posted on YouTube. Awesome.
Theory of a Deadman was up next, and you may be wondering why the parens in the story title above. With the release of the latest album "Wake Up Call," they've decided to shorten their name to just "Theory." Meh, I liked the old name, but if that's what they want to call themselves, fine with me.
They kicked off the set with "Straight Jacket," off the new album. In general, the new album is very well received, with both "Straight Jacket" and "RX" getting a ton of play time on Spotify and the radio. As I alluded to above when talking about Wilson, one thing that I love about Theory[1] are the lyrics. All their songs are always about something. At the end of a particular track, you are always left with a great story or a piece of commentary on life. Nothing is just a toe tapping ditty.
As always they put on a great show. Lead Tyler Connolly switched off playing guitar and piano during the set. The stage was lit up by an impressive full stage led video show timed to the music. The set list was a little light on the new album, but that made room for a ton of the big hits that you are sure to know.
Great night of music on a beautiful summer night at Hampton Beach. Doesn't get any better than this.
[1] Not used to the new name yet.
Set List
Straight Jacket
Blow
Bitch Came Back
All or Nothing
Echoes
Wicked Game
Drown
Low Life
So Happy
Santa Monica
Not Meant to Be
Angel
Hate My Life
Encore
Theory
Wilson