Tove Lo at the House of Blues – Boston, MA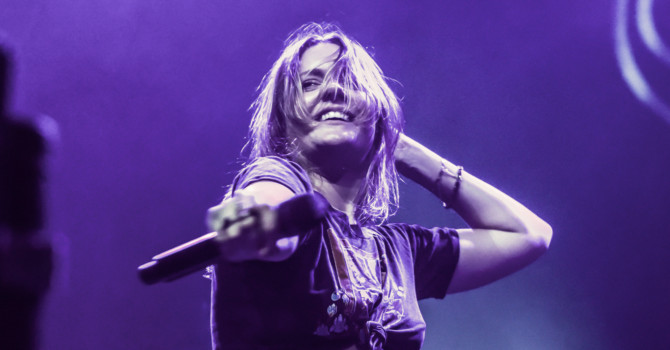 Photos and Review by Bethany Anna Packer
Galleries: Tove Lo, Phoebe Ryan
Swedish singer / song writer Tove Lo brought her Lady Wood tour to Boston on Sunday, where clearly her reputation as an incredible performer preceded her as she sold out the House of Blues well before the date of the show.
Her diverse and eclectic fan base swarmed Landsdowne St. well before doors, everyone eager for a dose of her sex appeal and stage presence. The venue filled quickly before opener Phoebe Ryan even took the stage. The green haired firecracker was the perfect fit for Tove Lo's tour, and she delivered a solid and fun performance that got the crowd primed for the night.
When Tove Lo took the stage as a silhouette behind a white curtain the crowd went insane. From that point on it was a full out party at the House of Blues. The curtain dropped to reveal the singer moving in an effortlessly sensual dance to "Fairy Dust", Lady Wood's instrumental opening track, moving seamlessly into the albums title track "Lady Wood".
Tove Lo has a stage presence that is simply mesmerizing. She resonates a powerful, sexual energy that is contagious. She moved from start to finish while keeping the energy at at ten throughout the set. She sampled various tunes from both Lady Wood including the popular and catchy "Influence" that had the crowd singing and moving along. The singer also performed tracks from her prior breakout album Queen of the Clouds including "Talking Body" which proved to be a fan favorite.
At the end of the set Tove Lo returned for a two song encore, where she saved the best for last performing her biggest hit "Habits (Stay High)" to a room that didn't want the night to end.
Tove Lo
Phoebe Ryan