Train, OAR, and Natasha Bedingfield at the Xfinity Center – Mansfield, MA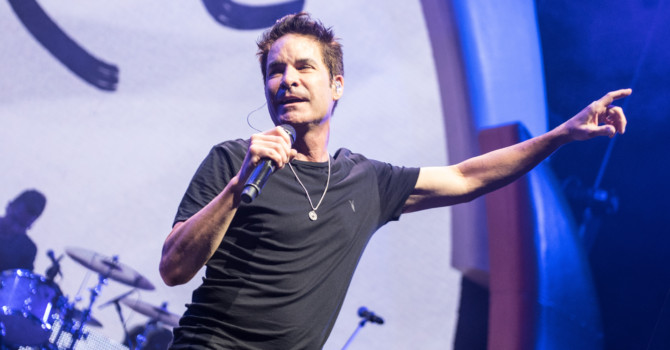 Photos and Review by Bethany Anna Packer
Galleries: Train, OAR, Natasha Bedingfield
Pop rock juggernaut Train brought their massive fan following to Mansfield's, Xfinity Center Sunday night with Natasha Bedingfield and O.A.R. for their Massachusetts stop on their Play That Song Tour.
Natasha Bedingfield opened the show with a light and airy set of catchy pop, twirling around the stage in platform sneakers and a boho inspired two-piece dress and crown. The younger members in the crowd devoured the peppy performance. Highlights of the set included some of the songstresses most popular hits including "Pocketful of Sunshine" and "Unwritten" performed in front of a balloon filled backdrop as the sun started to set on the amphitheater.
O.A.R. was up next and played a 10 song set that went by entirely too quickly. The well-known alt rock/jam band launched into their opening number "City on Down" as the crowd went wild. The group, well known for their live shows and extensive summer touring work together like a well-oiled machine. Lead singer Marc Roberge knows how to captivate a crowd while the energetic interaction between trumpeter Jon Lampley and sax man Jerry DePizzo keeps the energy level at a 10. The band wrapped with their popular tune "That Was a Crazy Game of Poker".
Train was next to take the stage and they didn't miss a beat as far as production or performance. A curtain dropped and lights rose to reveal a brightly lit stage that vaguely represented the inside of a juke box. Lead singer /guitarist Pat Monahan fronted the show and moved around the stage constantly interacting with the ravenous crowd. Monahan was backed by the band staged on two risers, one for drummer Drew Shoals and guitarist/keyboardist Jerry Becker, the other for bass player Hector Maldonado and guitarist Louis Maldonado.
The night was full of energy and filled with fan interaction. From beach balls being tossed around the crowd, to Pat Monahan borrowing cell phones from the crowd for a few epic selfies, the performance was something you could not take your eyes away from.
The group performed a stacked set list filled with fan favorites including "If It's Love", "Marry Me" , "Meet Virginia" and "Hey Soul Sister" as the crowd chanted along to the lyrics. Bedingfield joined Train on stage for a beautiful performance of "Bruises" and O.A.R. also joined in the fun jumping in for a killer Paul Simon cover of "You Can Call Me Al". The group wrapped the show with a two song encore ending one of the bands biggest hits to date "Drops of Jupiter".
Train
O.A.R.
Natasha Bedingfield