Trivium and Avatar at the Palladium – Worcester, MA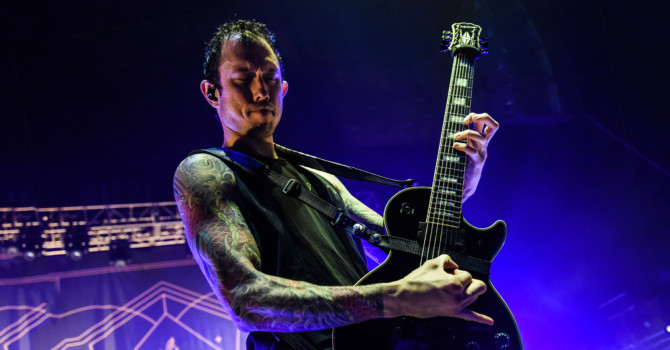 Photos and Review by Jim LaValley
Trivium's "The Sin and Sentence World Tour" with Avatar's "Avatar Country Tour" played the Worcester Palladium in October to a fan packed show.  The line to enter the venue wrapped around the corner and down the street into the parking lot as I was entering the venue.  I like the sound within the Worcester Palladium, I have seen a few shows there lately and have been noticing how clear and loud the shows are (over 127dB for Trivium).
The Swedish band Avatar took the stage with their carnival themed props and harlequin based outfits with "Let It Burn."  The night began with the guitarists heads and hair swinging in cadence as they jammed.  The band consists of Johannes Eckerström – lead vocals, Jonas "Kungen" Jarlsby – guitars, John Alfredsson – drums, Henrik Sandelin – bass, and Tim Öhrström – guitars.
I've never seen Avatar before and their performance was electric, with terrific live vocals and guitar.  The theatrics from lead man Eckerström were accented by a strip of lights positioned below him at the center of the stage giving the photographers a treat with strong lighting.  The bright back lighting combined with the low floor lighting produced some great results.
They transitioned into "Hail the Apocalypse" with a loud beat from Alfredsson on drums while the crowd chanted "Hail! Hail! Hail! Hail! Hail!".
The live version of "The Eagle Has Landed" had the crowd singing along and rocking to the anthem-like tune. Avatar ended the night with "Smells Like a Freakshow" that had all of their heads swinging in cadence with the overall tune.  These guys jam melodic heavy metal that just rocks.
Next up was Trivium. They came out and blew the crowd away with "Betrayer," a song off of the new album "the Sin and the Sentence" to set the tone for the night. Lead vocalist Matt Heafy has a vocal roar that transforms into a melodic tone effortlessly. Corey Beaulieu on lead guitar swung his head in cadence to his jamming. Paolo Gregoletto on bass was energetic and drove the rhythms with Alex Bent on drums.
Crowd surfing was going full throttle with the fan packed crowd.  At times there were 6 fans surfing the crowd. Once they got to the front another 6 were up and surfing right behind. It was pretty kewl.
Great show and I definitely look forward to checking them out again in the future.
Trivium
Avatar