U2 at Gillete Stadium – Foxborough, MA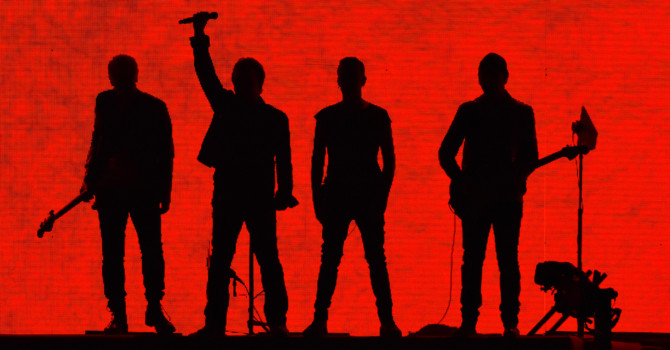 Photos and Review by Jim LaValley
Concert Galleries: U2
U2's Joshua Tree Tour 2017 stopped by the Gillette Stadium on a beautiful June night to celebrate the 30th anniversary of their Joshua Tree album to a sold out enthusiastic crowd.
Their stage featured the largest and highest resolution (just about 8k) LED video screen ever used in a touring show.  The screen was 200ft x 45ft, which is almost the full width of the stadium.  The screen was made up of 1,040 individual panels that were painted to look like cardboard with a silver Joshua Tree.  The top of the tree extended over the top of the screen.
Stage B, which was the shape of the shadow of the tree, extended into the audience and this is where U2 opened up with a raw watered-down production that had a retro '80s MTV unplugged sound of "Sunday Bloody Sunday", "New Year's Day", "Bad", and "Pride – In the Name of Love".  Once complete with this mini-set, the large screen lit up and the visual spectacular display started.
They came out with "Where the Street Have No Name" that depicted a long never-ending winding road on the large screen backdrop.  They followed up with "Still Haven't Found What I Am Looking For" and "With or Without You" in front of videos that depicted various beautiful American landscapes on the high-resolution screen.
Bono, Edge, Larry Mullen Jr., and Adam Clayton still have their strong synergy on stage and the genuine chemistry between Bono and the Edge was obvious.  Bono has a way of reaching out with his vocals and feeling to pull you right into the song and on this night, he did it again.  You could see the crowd was feeling the band in the way that they reacted to each classic song.
As we were getting escorted to our photo spot, I noticed Robert and Jonathan Kraft (the owners of the New England Patriots) in the front of the lower arena enjoying the show.
The most emotional moment of the night was when Bono dedicated "One Tree Hill" to the Richards family who were in attendance, their son Martin was killed in the Boston Marathon bombings.
All in all, I thought the show was amazing and sounded great.  After all these years, U2 can still push the envelope to pull off this kind of record breaking visual performance paired with their music library to offer just an incredible experience.  I totally recommend checking out this tour as it makes its way around the US, then over to Europe, then back to the US for more shows at the end of the summer, and then down to South America.
Setlist included:
Sunday Bloody Sunday
New Year's Day
Bad (With "America" by Simon & Garfunkel snippet)
Pride (In the Name of Love)
The Joshua Tree
Where the Streets Have No Name
I Still Haven't Found What I'm Looking For
With or Without You
Bullet the Blue Sky
Running to Stand Still
Red Hill Mining Town
In God's Country
Trip Through Your Wires
One Tree Hill
Exit
Mothers of the Disappeared
Encore:
Miss Sarajevo (Passengers cover)
Beautiful Day (With "Dream On" by Aerosmith snippet)
Elevation
Vertigo (With "It's Only Rock n' Roll (But I Like It)" by the Rolling Stones snippet)
Ultraviolet (Light My Way)
One
The Little Things That Give You Away