The Verve Pipe at the City Winery – Boston, MA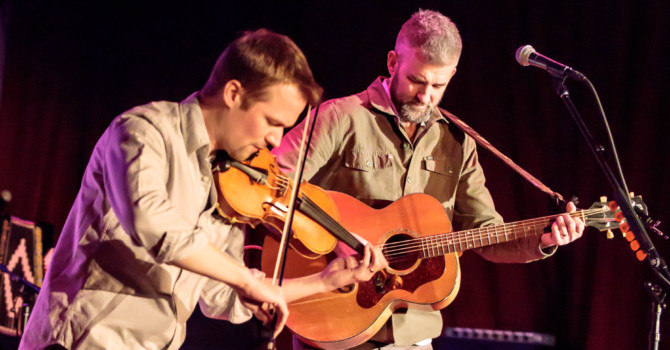 Photos and Review by Jeff Palmucci
Show photos HERE
The Verve Pipe stopped by the City Winery on their tour after the release of their new album Parachute. This was my first time photographing at the Winery and it is a different experience than most of the venues that I go to.
The musical acts play in a large venue room that is set up adjacent to the main restaurant. I'd say it's about the size of the Middle East downstairs, but that's where the comparison ends. Think more fine dining, and less moshing.
The room was set up in a dinner theater arrangement with full table service throughout the show. Although I only got an appetizer, dinner looker pretty good. They had a large selection of wines (duh) and a full bar for those of us that prefer whisky over wine.
In general, I'd say this is a great first date venue. You know, so you can impress her with your sophistication. Save the moshing 'till the relationship can stand a little more idiocy on your part.
The Verve Pipe put on a great set. They did an excellent cover of Blue Oyster Cult's "Don't Fear the Reaper", with violinist Brad Phillips plucking out the melody, given the song an interesting twist. I was joking with the guy at my table that it could've used a little more cow bell. Turns out that guy was David Wallace, chair of the string department at the Berklee, a friend of Brad's that came out to see him play.
Although the Venue did allow enough conversation for me to realize that I was hanging out with a Berklee professor, that also had some downside. We were towards the back of the room where some of the table conversation go a little loud, distracting from the band. Didn't seem to be an issue closer to the stage.
During the intro to The Freshman (which you all know, even if you don't know the Verve Pipe) lead singer Brian Vander Ark told an interesting story about writing the song. He had the melody but was having issues with the lyrics. Then, that Marlon Brando movie "The Freshman" came on the TV. Bam! Then the Divinyls "Touch Myself" came on the radio. Bam! Done!
It was a great night of music in an interesting venue. Check out the band. And for god's sake, take your girl out to a nice place every once in a while!