Marilyn Manson And Alice Cooper-Tour!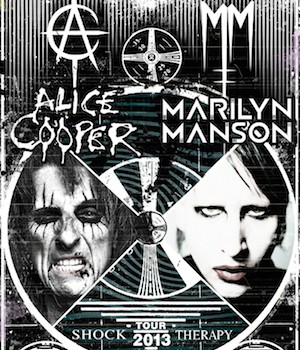 Its true! Marilyn Manson has officially confirmed that he will be touring this summer with the original shock rocker Alice Cooper. They are only  revealing three tour dates.
The 'Masters of Madness: Shock Therapy Tour 2013′ will hit Salt Lake City, Utah, on June 4, St. Charles, Mo., on June 25 and Rockford, Ill., on June 28. So far, venues for the three stops have not been revealed yet. In addition to those three dates, Pollstar is reporting a June 23 stop at Pittsburgh's Stage AE. More dates should be announced soon.
Earlier this week, Cooper's website unveiled a poster revealing the trek and baring a photo of the two rockers, which started the buzz that the pair would team up. This pairing would be the completion of the shock rocker circle. In the past, Cooper has toured with Rob Zombie. Last fall, Zombie and Manson joined forces for the 'Twins of Evil' tour and now, Cooper and Manson will share stages together.
Marilyn Manson / Alice Cooper 'Masters of Madness' 2013 Tour Dates :
[via Pollstar]
6/4 — Salt Lake City, Utah
6/23 — Pittsburgh, Pa.
6/25 — St. Charles, Mo.
6/28 — Rockford, Ill.
[More dates soon…]