JUDAS PRIEST to Release New Live CD/DVD/BLU-RAY Titled BATTLE CRY in Late March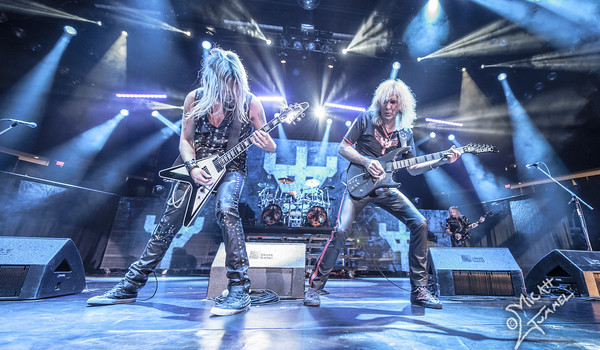 Judas Priest's tour in support of their 17th studio album overall, Redeemer of Souls, was one of the most extensive of the group's entire career – consisting of 130 shows in 33 countries, and offering a setlist that touched upon selections from nearly all of their classic albums. And now, fans can relive the live Priest experience once more, with the release of the new CD/DVD/Blu-ray, Battle Cry, on March 25th, 2016, via Epic Records. (preview available for viewing here)
Recorded live on August 1st, 2015 at Germany's Wacken Festival in front of an audience of 85,000, Battle Cry is available on a 15-track CD, with the entire show on Blu-ray and DVD (running over 94 minutes), as well as digital audio and video formats. The DVD and Blu-ray also contains 3 bonus tracks shot in Poland on December 10th, 2015 at The Ergo Arena, Gdansk, Poland.
What makes the show's track listing so appealing is it balances new classics ("Dragonaut," "Halls of Valhalla," "Redeemer of Souls") along with headbanging classics ("Metal Gods," "Electric Eye," "You've Got Another Thing Coming"), as well as key album tracks from yesteryear ("Devil's Child," "Beyond the Realms of Death," "Jawbreaker").
For decades, Judas Priest has been one of the greatest live bands in the entire heavy metal genre. And as evidenced by Battle Cry, Priest rock harder and more ferociously than ever.