HELLYEAH Announce 'UNDEN!ABLE' Album Title & Track Listing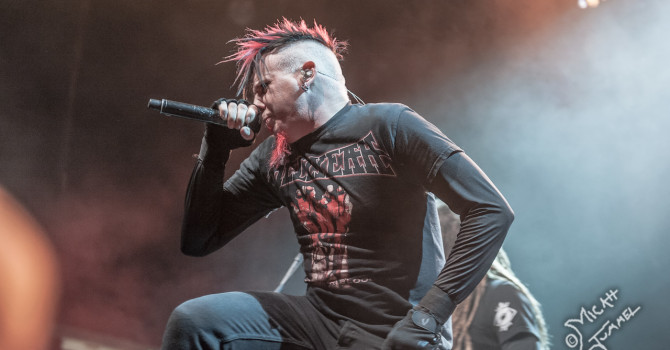 Having established themselves over four albums, HELLYEAH officially announce the June 3rd release of UNDEN!ALBE, their fifth full-length album, via Eleven Seven Music.
HELLYEAH gave their fans the first taste of UNDEN!ALBE 6 weeks ago with their lead single, "Human", which is currently #20 this week on the Mediabase Active Rock radio chart, the #1 spin gainer, and the #2 most added Active Rock song. The band's official lyric video for "Human" was welcomed by fans who are embracing the band's return to form with almost a quarter of a million views on YouTube after just over a month. Watch the video here.
Comprised of vocalist Chad Gray, guitarists Tom Maxwell and Christian Brady, drummer Vinnie Paul and bassist Kyle Sanders, this is the first time this line-up has recorded together as a unit, promising a very special return to their true metal rootsThe album art by William Felch and Chad Gray revealed today, features a predatory, gleaming eye with an exclamation point pupil – the ultimate signifier of what's inside: anger, pain and a hyper-focused, high octane, heavy metal collection for the ages.
UNDEN!ALBE will be available just in time for HELLYEAH's upcoming "Hell Pop Tour" with In This Moment, which starts on June 18th in Des Moines, IA. This run will follow HELLYEAH's "We're All In This Together" headlining tour which also features Escape The Fate, New Years Day, and From Ashes To New, kicking off May 2nd in Baltimore, MD.
Fans who purchase tickets from participating venues for the "We're All In This Together" Tour, receive a FREE tour 8 track sampler – comprised of 2 songs from each band, including "Human."
UNDEN!ALBE features 11 tracks that take off where it's predecessor Blood For Blood left off. That album debuted at #1 Billboard Hard Rock Charts in June 2014 and which Revolver Magazine praised as being full of "punchy and vitriolic, unforgiving tracks".
Heavy with a purpose, the band is re-charged, sharpened up and ready to reclaim their rightful spot at the top of the rock charts. This description aptly describes the music fans have been waiting for.
UNDEN!ALBE Track listing:
1) !
2) X
3) Scratch A Lie
4) Be Unden!able
5) Human
6) Leap of Faith
7) Blood Plague
8) I Don't Care Anymore
9) Live Or Die
10) Love Falls
11) 10-34
12) STARTARIOT
13) Grave
Album pre-orders for HELLYEAH's UNDEN!ALBE digital edition are available now – get it here!
HELLYEAH Upcoming Tour Dates:
"WE'RE ALL IN THIS TOGETHER" TOUR
April 30 – Jacksonville, FL @ Welcome To Rockville *festival
May 2 – Baltimore, MD @ Baltimore Soundstage
May 3 – Clifton Park, NY @ Upstate Concert Hall
May 4 – Lancaster, PA @ Chameleon Club
May 6 – Concord, NC @ Carolina Rebellion *festival
May 7 – Indianapolis, IN @ The Vogue
May 9 – Nashville, TN @ Cannery Ballroom
May 10 – Grand Rapids, MI @ The Intersection
May 11 – Traverse City, MI @ Ground Zero
May 13 – Council Bluffs, IA @ KIWR Rock Fest *festival
May 14 – Kansas City, MO @ KQRC Rockfest *festival
May 15 – Somerset, WI @ Northern Invasion *festival
May 17 – Flint, MI @ The Machine Shop
May 18 – Flint, MI @ The Machine Shop
May 20 – Fort Wayne, IN @ Piere's
May 21 – Columbus, OH @ Rock On The Range *festival
May 22 – Knoxville, TN @ The Concourse at the International
May 24 – Louisville, KY @ Mercury Ballroom
May 25 – Arlington Heights, IL @ H.O.M.E.
May 27 – Columbia, MO @ The Blue Note
May 28 – Pryor, OK @ Rocklahoma *festival
May 29 – San Antonio, TX @ River City Rockfest *festival
May 31 – Denver, CO @ The Summit Music Hall
June 1 – Salt Lake City, UT @ The Complex (NYD and FATN not appearing)
June 3 – San Diego, CA @ House Of Blues (NYD and FATN not appearing)
June 4 – Riverside, CA @ Riverside Municipal Auditorium (NYD and FATN not appearing)
June 5 – Las Vegas, NV @ The Foundry (NYD and FATN not appearing)
"HELL POP U.S." TOUR w In This Moment
June 18 – Des Moines, IA @ 7 Flags Event Center
June 19 – Wichita, KS @ The Cotillion
June 21 – Lubbock, TX @ Lonestar Pavilion
June 22 – Midland, TX @ La Hacienda Event Center
June 24 – Abilene, TX @ Abilene Civic Center
June 25 – El Paso, TX @ Speaking Rock Entertainment Center
June 27 – Corpus Christi, TX @ Concrete Street Amphitheater
June 29 – Birmingham, AL @ Iron City
June 30 – Orlando, FL @ Hard Rock Live
July 2 – St. Petersburg, FL @ Jannus Live
July 3 – N, Myrtle Beach, SC @ House of Blues
July 5 – Atlanta, GA @ The Masquerade
July 6 – Raleigh, NC @ The Ritz
July 8 – Norfolk, VA @ The Norva
July 9 – Inwood, WV @ Shiley Acres
July 10 – Asheville, NC @ The Orange Peel
July 12 – Peoria, IL @ Limelight Event Complex