Alice Cooper Hosts All-Star Charity Concert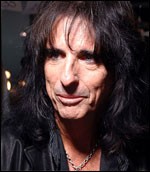 Alice Cooper hosted an all-star charity concert on New Year's Eve. The event, admission to which cost $500, benefited the Maui Food Bank.
According to TMZ, the bookers delivered at the latest benefit, which featured performances by Steven Tyler, Sammy Hagar, Richie Sambora, the Doobie Brothers and Weird Al Yankovic. The site also caught some video of the performance.
Cooper is scheduled to perform aboard the third annual Rock Legends Cruise on Royal Caribbean International's Liberty Of The Seas, which sets sail from Fort Lauderdale on February 19 and returns to port on February 23.
Other acts confirmed for the show include the Doobie Brothers, Blue Oyster Cult, Uriah Heep, 38 Special, theEdgar Winter Band, the Marshall Tucker Band, Eddie Money, Dickey Betts and more.