As I Lay Dying Vocalist Tim Lambesis Makes Bail At $2 million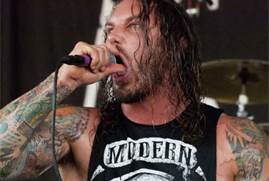 Tim Lambesis, vocalist for As I Lay Dying has been set free on $2 million dollars bail, according to various media sources. He was released yesterday after posting the bail.
Timothy Lambesis, 32, who has been in jail since his arrest on May 7, which happens to be the day the singer for the heavy-metal Christian band supposedly tried to hire a hit man to kill his wife— Lambesis is suspected of trying to pay a hit man $1,000 to kill her, who subsequently turned out to be an undercover law enforcement officer.
Lambesis pleaded not guilty to the charges. He and his wife parted ways last year when the singer told her in an e-mail that he did not love her anymore or believed in God. She alleges that Lambesis was making steady visits to Florida to see a girlfriend and that he had other affairs. The bond was originally $3 million, however a judge reduced it last week. Conditions of his bail require Lambesis to stay away from his estranged wife and their three adopted children. He must wear a GPS monitor and also surrender his passport. July 10th is set for his preliminary hearing.
As I Lay Dying had announced online earlier this month the upcoming tour with Killswitch Engage was canceled which had been scheduled to start yesterday.