Biffy Clyro announce 2013 North American Headlining Tour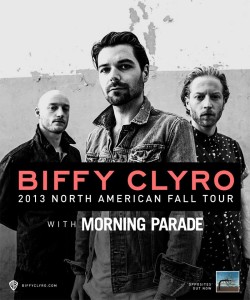 Alternative hard-rockers Biffy Clyro are set to embark on a North American headlining tour this fall with special guests Morning Parade. The trek kicks off in Charlotte, NC on September 28 and concludes on October 10 in Philadelphia, PA. The band is touring in support of their new album, Opposites, which debuted at #1 on the UK and sold over 70,000 copies in it's first week of sales. The record was produced by GGGarth Richardson (Rage Against the Machine, Red Hot Chili Peppers, Nickelback, Chevelle), and won the Kerrang! Award for Best Album. Biffy Clyro won this year's NME Award for Best British Band.
Biffy Clyro have been making quite a name for themselves since 2002. To date, the band as released six studio LPs. In July 2011, Biffy Clyro opened for Foo Fighters in front of 130,000 fans (65,000 each night) at the Milton Keynes Bowl in the U.K. In 2012, the band was a featured act at Download Festival 2012 along with Soundgarden and Chase and Status Live, with headliners The Prodigy, Metallica, and Black Sabbath. Biffy Clyro performed directly before Metallica on the second night of the festival. Back in the spring, the band treked across the U.K. and Ireland on a massive arena tour. 

Biffy Clyro 2013 North American Tour
with special guests Morning Parade
Sept 28th – ­ Weenie Roast 13 @ Verizon Wireless Amphitheatre ­ Charlotte, NC
Sept 29th – ­ U Street Music Hall ­ Washington, DC
Oct 1st ­- The Met, ­ Pawtucket, Rhode Island
Oct 2nd – Brighton Music Hall – Boston, MA
Oct 4th ­- The Opera House – ­ Toronto, ON Canada
Oct 5th ­- Chill On The Hill – Freedom Hill Amphitheater ­ Detroit, MI
Oct 6th -­ Bottom Lounge –  ­ Chicago, IL
Oct 7th ­ – A&R Music Bar – ­ Columbus, OH
Oct 9th -­ Music Hall of Williamsburg­ – Brooklyn, NY
Oct 10th ­ – The Trocadero – Philadelphia, PA