I Prevail coming through Worcester on 5/15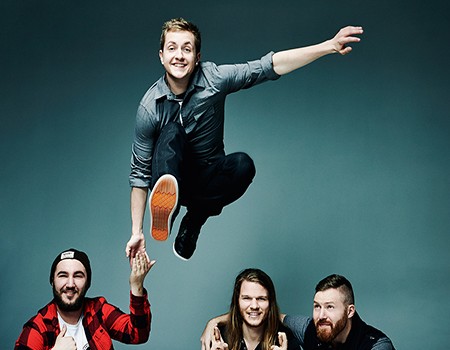 Detroit, MI — Unsigned Detroit-based band I Prevail has literally taken The World by storm, Out of nowhere, the band has become a viral sensation, with their recording of Taylor Swift's "Blank Space" fueling a hurricane of interest and an army of fans. Their independently released debut EP HEART VS. MIND was issued in December, and in mere months has risen to #1 on the iTunes Rock Album chart fueled by the cover song hitting #1 on the iTunes Rock Singles chart. In Mid-February, the Associated Press reported that I Prevail's version of "Blank Space" was charted as the seventh most viral track on Spotify globally! I Prevail is Brian Burkheiser (vocals), Eric Vanlerberghe (vocals), Steve Menoian (guitar), and Lee Runestead (drums).
I Prevail will be coming through Worcester on 5/15 to perform at the Palladium (w/ Amaranthe). Over the past four months the band's career exploded. Late in 2014, they posted a video of their cover of Taylor Swift's "Black Space." To date, it has been viewed over eight million times. A couple of weeks ago, they signed to Fearless Records, and are now beginning a tour that takes them in to June. If you can make it out, please let me know. Additionally, they are available for interviews if of interest.
To check out "Blank Space" click here
To Check out the official video for "Love, Lust, and Liars" here
 With fans waiting anxiously, the band now announces a coast to coast run featuring dozens of headline dates alongside a support leg with Amaranthe. Confirmed appearances include:
3/18     Pittsburgh, PA                         Altar Bar
3/19     Cleveland, OH                        Cambridge Room
3/20     Pontiac, MI                             Crofoot
3/22     Toledo, OH                             Frankie's
3/23     Buffalo, NY                            Iron Works
3/24     New York, NY                        The Studio @ Webster Hall
3/28     Springfield, VA                      Empire
3/29     Lancaster, PA                        Chameleon Club
4/09     Greensboro, NC                    Greene St.
4/10     Atlanta, GA                            Masquerade
4/11     Orlando, FL                            Backbooth
4/12     Tampa, FL                              Epic Problem
4/16     Houston, TX                          Peacock Room @ House of Blues
4/17     Dallas, TX                              Cambridge Room @ House of Blues
4/21     Kansas City, MO                   Riot Room
4/22     Little Rock, AR                      Juanita's
4/23     Sauget, IL                                Pops
4/25     Memphis, TN                         Hi-Tone
4/26     Clarksville, TN                       Warehouse
4/29     Bloomington, IL                    The Castle Theatre
4/30     Columbus, OH                       The Basement
5/01     Grand Rapids, MI                  The Stache
5/12     Montreal, QUE                       Virgin Mobile Corona Theatre            w/ Amaranthe
5/13     New York, NY                        Gramercy Theatre                               w/ Amaranthe
5/14     Baltimore, MD                       Rams Head                                          w/ Amaranthe
5/15     Worcester, MA                       Palladium                                            w/ Amaranthe
5/16     Philadelphia, PA                     Trocadero                                            w/ Amaranthe
5/17     Toronto, ONT                          Opera House                                       w/ Amaranthe
5/20     Joliet, IL                                  Mojoes                                                w/ Amaranthe
5/21     Minneapolis, MN                   Mill City Nights                                 w/ Amaranthe
5/23     Calgary, AB                             Republik                                             w/ Amaranthe
5/24     Edmonton, AB                        Starlite Room                                      w/ Amaranthe
5/26     Vancouver, BC                        Rickshaw Theatre                               w/ Amaranthe
5/27     Seattle, WA                              Studio Seven                                       w/ Amaranthe
5/29     Denver, CO                              Bluebird Theatre                                 w/ Amaranthe
6/02     San Francisco, CA                 Regency Ballroom                               w/ Amaranthe
6/03     Los Angeles, CA                     Club Nokia                                          w/ Amaranthe
6/05     Phoenix, AZ                            Joe's Grotto
6/06     Tucson, AZ                            Club XS