Mayhem Festival comes to Mansfield on July 16th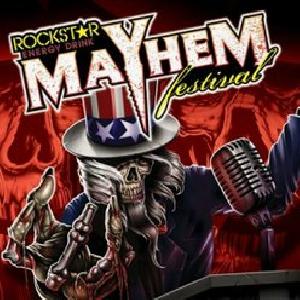 The Rockstar Energy Drink Mayhem Festival kicks off another year of supreme metal for the masses. The festival started off Saturday, June 29th  in San Bernardino California with this year's headliner Rob Zombie, born native to Haverhill Massachusetts. How fitting to have a hometown horror mastermind and legend in the metal industry to headline this tour. Zombie joins forces with some of metals greatest, Five Finger Death Punch, Mastodon and Amon Amarth on the main stage. Going to this festival for most of all the years since its inception, it has become a ritual and every year it does not disappoint. It is always packed full of maniacal antics and it is madness beyond comprehension. The festival always has an insane lineup featured on four separate stages concurrently; The Main Stage, The Jagermeister Stage, The MI Stage (Musicians Institute) and The Summerian Records Stage for this years tour.
On the Jagermeister stage this year, Machine Head, Job for A Cowboy, Butcher Babies, Battlecross and Huntress are going to destroy everything in their paths. Each one of these bands are high energy, relentless and they give it to you hard. It's going to be fierce, volatile and unpredictable, everything one wants in a metal show.
The MI (Musicians Institute) Stage will include Children of Bodom, Emmure, Born of Osiris, Attika 7, Motionless in White and Thrown into Exile, all of which dispense a high caliber, chaotic vicious metal concoction. Looking at this particular set of artists, one would think this is going to be absolutely sick and twisted. This lineup alone would make any metal head drool with anticipation.
Last but certainly not least is the Summerian Records stage and that will hold; Scorpion Child, City in the Sea and Headbang for the Highway Winner 1, 2 and 3. Scorpion Child and City in the Sea are relatively newcomers along with a few others on this ticket. We  also can't forget the three winners of the Headbang for the Highway, they are local bands that compete to win a spot to perform on this stage. It gives local talent in that area a chance to make a name for themselves playing with some big name artists while exposing their sound to a larger audience.
If someone says "Mayhem", any metal junkie will know exactly what you're talking about. Mayhem was founded in 2008 and has become a growing annual event across the U.S. and Canada. This is one of the largest events that features predominantly metal bands including sub genres of metal, such as; Thrash, Death, Metalcore, Deathcore and Progressive metal to name a handful. Mayhem Festival comes to Mansfield on July 16th. This year will be as always; a mighty showing and a hell raising ride with Zombie at the wheel.