More Beatles BBC Performances To Be Released in October!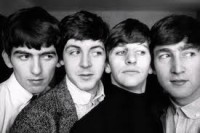 A cave that everyone figured had been fully mined may be ready to spring forth with even more jewels. Reports across the web say that a new set of Beatles performances on the BBC will be released in October.
According to the WogBlog, an internal release list from Universal Music shows an October 4 released date for Live at the BBC, Volume 2, a followup to the original 1994 album of recordings from the network.
The site also mentions that many of the Beatles' performances on the BBC were lost as the network regularly recorded over shows on tape as a cost cutting measure. It's unknown if this new set will be original BBC tapes or those that may have been recorded and archived by others.
The release may tie in with the new book The Beatles: The BBC Archives: 1962-1970, which will also be released in October. The author, Kevin Howlett, previously released The Beatles at the Beeb.