Papa Roach Shares New Album's Title, Release Details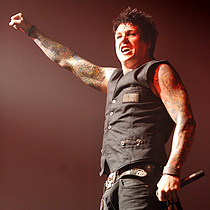 Papa Roach has a name for its new album.  Frontman Jacoby Shaddix says the follow-up to their 2012 release The Connection will be called F.E.A.R. (Face Everything and Rise), and is expected to hit stores early next year.
Shaddix says the record is "all over the place," with elements of hard rock, heavy metal, pop, and more.
He says it all came together to make what he calls "another classic Papa Roach record."