The Sheepdogs are embarking on an extensive North American tour!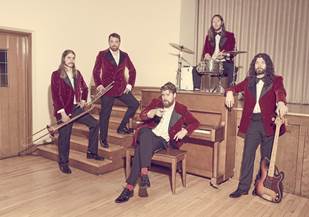 This Fall, The Sheepdogs will embark on an extensive North American tour, including a stop in Somerville on November 6th at Thunder Road. Let me know if you'd like to chat with one of the guys to preview the show, or can make it out for a review.
The Sheepdogs remain steadfast in their commitment to rock n' roll excellence with their third album Future Nostalgia out October 2nd, 2015 via Dine Alone Records. Since their inception, the band has always sought to play the kind of music they themselves love: "Pure, simple, good-time music," as singer/guitarist Ewan Currie puts it. It's no surprise, then, that the album is firmly rooted in the rock tradition that listeners have come to expect from the boys. PRESS HERE to watch the music video for single "Downtown".
Formed in Saskatoon, The Sheepdogs have followed in the footsteps of Canadian rock legends including Neil Young, The Band and The Guess Who with a bold take on classic guitar rock and polished retro sound. The band came into the national spotlight in 2011 as the first unsigned band to appear on the cover of Rolling Stone, which led to a performance on Late Night with Jimmy Fallon and a special appearance on Project Runway. A live favorite, The Sheepdogs have played at numerous festivals and headlining tours across North America, including performances at Bonnaroo, Coachella, Lollapalooza, opening for the likes of Kings of Leon and John Fogerty, and sharing the stage with Jason Sudeikis, Will Forte and Justin Long at Stones Fest. For their last self-titled LP, The Sheepdogs worked with Patrick Carney of The Black Keys to produce the collection, which debuted at No. 1 on the Canadian Top 200 SoundScan Chart, and garnered three No. 1 singles. The band has also won four JUNO awards, and been nominated for seven over their impressive career.
The Sheepdogs are Ewan Currie (lead vocal/guitar), Ryan Gullen (bass/vox), Sam Corbett (drums/vox), Shamus Currie (keys/horns) and Rusty Matyas (guitar/vox).
http://www.thesheepdogs.com/
https://twitter.com/TheSheepdogs
https://www.facebook.com/thesheepdogs
https://instagram.com/TheSheepdogs/
The Sheepdogs Tour Dates:
9/29 Salt Lake City, UT @ The State Room
9/30 Boise, ID @ Visual Arts Collective
10/1 Seattle, WA @ The Crocodile
10/2 Portland, OR @ Doug Fir
10/3 San Francisco, CA @ Hardly Strictly Bluegrass
10/4 Orangevale, CA @ Boardwalk
10/6 Santa Cruz, CA @ Moe's
10/7 Los Angeles, CA @ The Roxy
10/8 San Diego @ Casbah
10/9 Las Vegas, NV @ Wine Amplified Festival
10/10 Bakersfield, CA @ 99 Musicfest
10/11 Long Beach, CA @ The Federal
10/13 Phoenix, AZ @ Rebel Lounge
10/14 Tucson, AZ @ Club Congress
10/15 Albuquerque, NM @ El Rey
10/16 Denver, CO @ Larimer Lounge
10/17 Norman, OK @ University of Oklahoma – Red Door Music Festival
10/18 Tulsa, OK @ Vanguard
10/20 Ames, IA @ Maintenance Shop
10/21 Milwaukee, WI @ Shank Hall
10/22 Chicago, IL @ Double Door
10/23 Minneapolis, MN @ 7th St Entry
10/24 St. Louis, MO @ The Bootleg
10/25 Nashville, TN @ 3rd & Lindsley (WRLT Show)
10/27 Memphis, TN @ 1884 Lounge
10/28 Atlanta, GA @ Vinyl
10/29 Charlotte, NC @ Visulite
10/30 Baltimore, MD @ Baltimore Soundstage
11/2 Richmond, VA @ The Camel
11/3 Philadelphia, PA @ Johnny Brendas
11/5 Brooklyn, NY @ Brooklyn Bowl
11/6 Somerville, MA @ Thunder Road
11/27 Winnipeg, MB @ RBC Convention Centre (Grey Cup Festival Concert Series)