Vince Neil And Sammy Hagar Planning Joint Tour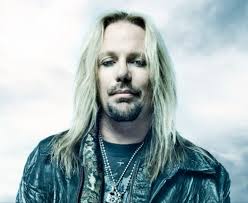 Vince Neil says that he and former Van Halen frontman Sammy Hagar are planning to embark on a co-headlining tour sometime in 2014. The Motley Crue frontman revealed the news while discussing his band's upcoming farewell tour and his plans for life after Motley Crue.
"I have my own stuff. I have my solo band, and we have a lot of touring coming up," the 52-year-old singer told Blabbermouth. "And actually, it looks like me and Sammy Hagar are gonna go out together for a long tour next year. I'll be carrying the torch for Motley Crue when Motley Crue is done."
In the meantime, Motley Crue will hit the road for one last hurrah to mark the band's 35th anniversary. "We've been on top for 32 years, and it's great," Neil explained. "And it's just like, you know what? By the time we finish this tour, it'll be in 35 years of Motley Crue. So . . . that's really kind of it."
The Los Angeles group recently returned to Las Vegas for an exclusive twelve-show engagement at The Joint at Hard Rock Hotel & Casino, which wrapped up last month.