deadmau5 in Coming To New England!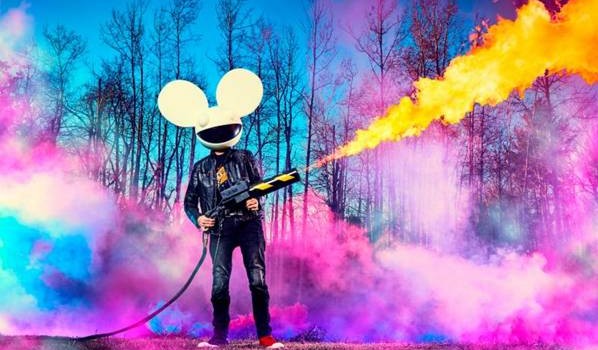 The deadmau5 live experience has long been one of the most invigorating in music, taking listeners on a complete journey that melds his signature sound with a state-of-the-art live show. The major international electronic musician will be taking his new album W:/2016ALBUM/ on the "lots of shows in a row tour" in 2017 with a new live show and an even bigger cube that will be taking over the TSONGAS ARENA in LOWELL on MONDAY, APRIL 10. Tickets are on sale now; more information is available at www.lotsofshowsinarow.com.
On the "lots of shows in a row tour," deadmau5 (Joel Zimmerman) will return to major venues across North America with his updated, custom-built Cube 2.1, where he will perform multiple nights in some markets, mirroring his record-breaking tours in 2011 and 2012. The upcoming shows will consist of new music featured on the chart-topping W:/2016ALBUM/ as well as a variety of mau5 classics as "Ghosts 'n' Stuff," "Strobe" and many others. deadmau5′ new stage show–a kinetic version of his previous cube with many enhancements—made its debut December 1, 2016 via "Live In Rehearsals," where he gave a livestream performance on his YouTube channel of songs from the new album and unveiled the cube, giving not only a sneak peek of his new music, but also the opportunity to explore the famed cube that is central to his upcoming live performances. Standing at 17 ft. tall, 20 ft. wide and 31 ft. deep, making it larger than its predecessors, Cube 2.1 features internal robots that push the sides of the cube–consisting of state-of-the-art LED panels–up and around while projecting brand new graphics. deadmau5's original cube made its debut at Coachella in April 2010, catapulting him to become one of the most in-demand live acts in the world.
deadmau5 recently (2/24) revealed the first of six behind-the-scenes videos with YouTube Music for Cube 2.1, showcasing deadmau5 and crew creatively developing the new cube at Tait in the middle of Amish Country, Pennsylvania (Lititz, PA). Watch the new BTS video HERE.
W:/2016ALBUM/–released December 2 via his own mau5trap label—debuted at #1 on Billboard's Top Dance/Electronic Albums Chart. "The set is the mouse man's third leader, following 2012's album title goes here and 2014's while(1<2)," wrote Billboard's Gordon Murray (12/15/16). "Dating back to 4×4=12, which started at No. 2 six years ago (Dec. 25, 2010), deadmau5 (aka Joel Zimmerman) has drawn six consecutive top-three debuts. deadmau5 also appears on Hot Dance/Electronic Songs for the first time in two years, as two tracks ["Let Go" featuring Grabbitz, "4ware"] from W:/2016ALBUM/ pierce the list." The album also hit #1 on iTunes Dance Album chart and #9 on iTunes overall chart upon its debut. W:/2016ALBUM/ is a myriad of original deadmau5 compositions ranging from atmospheric to techno to old-school synths with NME calling it, "a judicious side-step away from the plasticky insta-rush of EDM, it finds Zimmerman rebuilding his sound around the huge collection of classic and rare synths he's lovingly assembled in his new studio." There's "Let Go," one of the album's centerpiece selections with moody atmospheric vocals from Grabbitz, "Cat Thruster," "2448" (written as the new anthem for Canadian hockey outfit, the Toronto Maple Leafs), the rising techno of the superb "Imaginary Friends"–inspired by deadmau5's own love for gaming, specifically eSports–and the slow-building "No Problem," a song whose quirky intro of bells and synths is reminiscent of Tom Waits' "What's He Building In There."
deadmau5 is currently offering a collection of previously unreleased tracks as a free download via WeTransfer. stuff i used to do celebrates deadmau5 as an independent artist at liberty to offer fans free music. The first 13 tracks of the 16 song collection can be accessed HERE or on WeTransfer's homepage through today. Beginning Friday, March 3, stuff i used to do will be available at all digital retailers and will include three exclusive tracks.
View the Cube 2.1 video set to "Let Go" now HERE.