Review by King Dale.
Blues Enthusiast.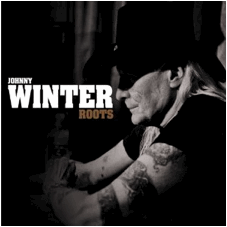 JOHNNY WINTER
ROOTS
Unlike most aging blues artists who bring in special musical guests to revitalize their old songs, Johnny Winter took a different approach. He brought in an A-list of musicians to collaborate on a project that's near and dear to his heart.
This collection of songs is a journey through Johnny's childhood. Not many people know this, but as a child, Johnny's family employed many African-American servants to work in the kitchen and prepare family meals. Little Johnny would often hang out in the kitchen with the help. While they were working, they often listen to the blues on the radio, which obviously touched him and inspired him to be a blues musician.
With a little help from his friends, Johnny brings these songs to life with the likes of Sonny Landreth, John Popper, The Allman Brother guitar duo of Warren Haynes and Derek Trucks, and brother Edgar even gets in on the action.
There's a lot of great collaborations on this album. The one that really curls my toes is the cover of "Dust My Broom", written by Robert Johnson and made famous by the original slide king, Elmore James, and played here to perfection by the modern day jam king, Derek Trucks. Trucks' slide work on this song sounds so much like Elmore James, it's almost haunting.
I wasn't sure what to expect when I bought this album. Being a big Johnny Winter fan and having the pleasure of seeing him live, I knew that he wasn't the fiery guitar slinger he once was, but the special guest help bring these old songs to life. One thing's for sure, Johnny's passion for the blues is still burning deep inside him after all these years. So keep doing your thing brother, I'm listening.