Alter Bridge and Nonpoint at the House of Blues – Boston, MA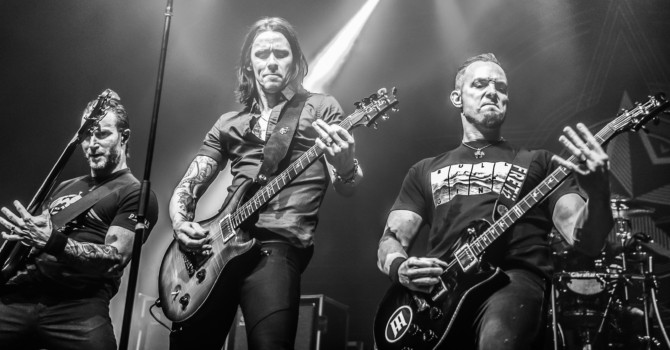 Photos and Review by Dave Nebbia
Concert Galleries: Alter Bridge, Nonpoint
Walking up to The House of Blues to enter the show was quite a sight. You could feel the energy from the HUGE line as they opened the doors and started letting in the huge crowd. It was such a great sight to see. I have seen Alter Bridge before and I don't remember the anticipation to the night being so electric.
The show opened with a band I have not seen or heard of before, Weapons of Anew. In doing some quick research on the band, it seems a few of these guys have played together before and were from working and touring bands. Bands known as HavocHate and Spread Eagle. They were good. They came out and you could tell they have been there before and had a command of the stage. Both the songs and Freddy Ordine (Axiom and HavocHate) were really good. A very accomplished player and a total shredder. Definitely check these guys out.
After Weapons of Anew comes a band I have long been waiting to see… Nonpoint. The band has always captured such great melodies, harmonies, and grooves in studio and I couldn't wait to hear them pull it all off live. Boy did they. From the first song (Pins and Needles), to the last song (Bullet with a Name), they just were spot on. You could also tell they were stoked to be back touring and playing again. Drummer, Rob Rivera, is amazing to not only listen to… but to watch. I love how he sets up on stage. No riser, sitting sideways to be part of the band. He just owns these songs. So much energy and great timing from such a powerful player. If you have never seen these guys before, you will be equally as impressed with the on stage chemistry all of these guys have. The vocal harmonies between Elias Soriano (Singer) and B.C. Kochmit (Lead Guitar) were fantastic. They played so many great songs in such a short set… Pins and Needles, What a Day, Hands Off, Breaking Skin, The Truth, Divided… Conquer Them, In the Air Tonight (Phil Collins cover), My Last Dying Breath, Alive and Kicking, and Bullet with a Name. Just a great set. Powerful, energetic, and put and kept a smile on my face for the whole set. Go see them!
During the changeover between Nonpoint and Alter Bridge, the crowd started really filling in and pushing towards the stage. The lights dim, and the crowd rises up as band hits the stage and opens with the song "The Writing on the Wall" from their latest release. "The Last Hero." The band digs in quickly and you can see they are here to take no prisoners. They then go on a 4 song run that just owns the night!  "Come to Life", "Farther From the Sun",  "Addicted to Pain" and showcasing of guitar prowess Mr. Tremonti… "White Knuckles." As we are all catching our breath from such a great opening to a great night of Rock, the band brings it down a little with one of my favorite tunes, "Ghost of Days Gone By." Myles voice is just spot on and it's so nice seeing him strapped to a guitar and shining not only vocally, but showing off HIS prowess on the fretboard. As we catch our breath, they quickly turn the heat up once again and throw "Cry of Achilles" in our faces! At this point, they are firing on all cylinders.
Then they take a quick few minutes and Myles talks to the Boston crowd about our beloved Patriots and the Super Bowl win. He dedicated "My Champion" to the team and the crowd thanks him and the band with a roaring thank you! They then rip off "Ties That Bind", "Crows on a Wire" and "Waters Rising" and once again show us all how tight and how locked in Alter Bridge is tonight! Again, as they let up on the gas, Myles takes the lead and gives his bandmates a much needed rest by playing "Watch Over You" solo.
What an amazing voice Myles has. The command is just unparalleled and unmatched, and he shows right here why he is one of the best rock vocalists of this modern rock era. After Myles wooo's the crowd, the band comes back hard! Starting with "Isolation," "Blackbird," "Open your Eyes," and closing the set with a killer, "Metalingus!"
As the set ends, the crowd lets them know that there is no way they are done! No one is moving as they all know more is coming! And, it did. They came out with the new single, "Show Me a Leader!" Then, it was time for Myles and Mark to shine and show us all one last time how amazing this band really is. The guitar solos that are being traded back and forth are just amazing and inspirational. What a band and what a night! The band then closes the night with one of their best… "Rise Today". I can say this enough… GO SEE THIS BAND! I have been following them since the first note, and they still amaze me… and, they will amaze you.
Alter Bridge
Nonpoint