Arctic Monkeys – The State Theatre, Portland, ME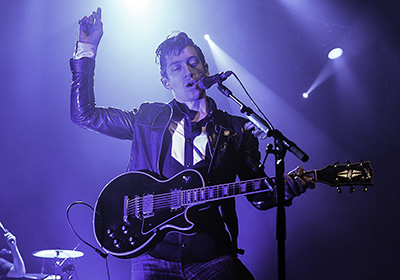 Review and Photos by: James Pappaconstantine
Arctic Monkeys show photos HERE 
On the 50th. Anniversary of the British invasion I was on my way to shoot and review a British band. Arctic Monkeys were playing at the State Theatre and although I have never really heard the band, It was a sold-out show and I wanted to see what all the hype was about. I arrived at the venue to find a queue wrapped around the building waiting to get in. The queue was made up primarily of younger teen girls, some with their boyfriends, but they definitely out numbered us old guys ten – fold.
The Orwells opened the show, a band from Elmhurst. IL. I must admit it was hard for me to get in to these guys. The band played in the dark, only dim red light shown on them letting you know they were there. The singer reminded me of Iggy Pop or Stiv Bators, just the way he handled him self. That is not a bad thing at all I am just stating what went through my head.  Their music reminded me of 90's band, The Meices the tunes were catchy in there own way. All in all they were reasonably good band and that could be me and my taste of music.
After that, I was really nervous to see these Arctic Monkeys, again after never hearing them before, I was afraid I would have a smiler reaction as The Orwells. When they came out I was pleasantly surprised. Their music reminded me of The Muse or Radiohead. I think I'd call it "Art House Music" It was very moody and ethereal. Lighting matching the sound made it hard to shoot but that's okay its the style and what they are known for. Its funny though there was more smoke at this show than at a Rob Zombie show for sure!  It was as if someone left the fog machine on 11.  with the dark blues and reds made it hard to see the band. Only when a breeze from an open door would blow the fog away that I could get a somewhat clear shot of the members. (other than the guitar player who was fogged in the whole time) Singer/Songwriter Alex Turner sported a ducky boy hair style, similar to what John Lennon used to have when the Beatles were young. Alex's stage movement was reminiscent of Richard Butler from The Psychedelic Furs with maybe a little bit David Bowie mixed in. Sitting back watching the show I found  they were extremely tight, I think in time they will grow to stand out from other British "Art House" band playing the circuit today. Maybe I've gotten old, but back in the 70's and 80's guitar players all had their signature tones, you'd never mistake a Eric Clapton riff with a Stevie Winwood riff or a Warren DeMartini riff with a George Lynch riff, They all had their signature sound. I think they will find there place it takes time. Again, don't get me wrong, the show was great, the music was good and tight, and if you dig the sound of Radiohead and The Muse you'd dig the Arctic Monkeys. A few times during their set I heard Rock-a-Billy influences in the song, Fluorescent Adolescent, and I remember thinking, I could see Alex releasing a Rock-a-Billy project at some point. Between the songwriting and Alex's charisma with his fans I could see these guys vaulting up the charts. During their encores the band did a slower version of The Beatles classic, All My Lovin. (featuring friend Miles Kane on guitar)
 Setlist:
 Do I Wanna Know?
Brainstorm
Don't Sit Down
Snap Out Of It
Crying Lightning
Cornerstone
Fireside
Knee Socks
High
Arabella
Dancing Shoes
Evil Twin
Dancefloor
Pretty Visitors
I Wanna Be Yours
Fluorescent Adolescent
All My Loving
One For The Road
R U Mine?