Big Bad Voodoo Daddy at the Cabot – Beverly, MA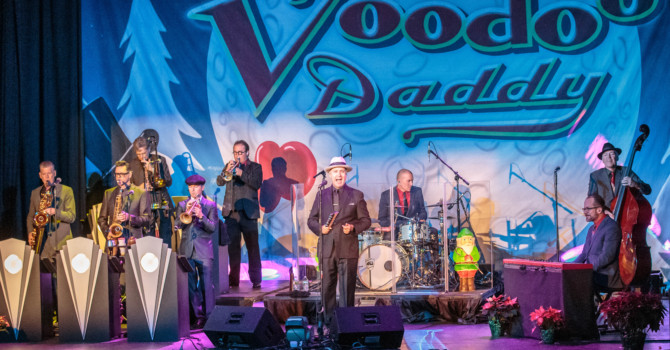 Photos and Review by Jeff Palmucci
Show photos HERE
Big Bad Voodoo Daddy swung by the Cabot last week for their Wild and Swingin' Holiday Party. Billed as "the most widespread Holiday Tour they've ever done," the show features gobs of swinging holiday music.
The Cabot is an interesting venue with a long history that I knew nothing about before executive director Casey Soward came out to give a quick talk before the show. The Cabot is coming up on it's 200 year anniversary in 2020. It opened in 1920 to silent movies and vaudeville acts. The theatre came very close to closing when it was put up for sale a few years ago, but was saved from the bulldozers in 2014 when purchased by philanthropist Henry Bertolon, with the understanding that eventually the current non-profit would buy it back. Since then, it's been renovated and reopened to music, movies, and other events.
The renovation looks great so far and the venue is reminiscent of Boston's Orpheum Theatre, which made it an ideal place for the rocking swing band they were hosting that night.
Big Bad Voodoo Daddy has been a favorite of mine for years. When I first heard them some 20 odd years ago, I was *not* into swing music. Not that many other people were either. However, they managed to convince us.[1] So much so that now, 25 years later, the band still has all original members.
This was not an ordinary BBVD show. The focus was on Christmas music, original and otherwise. One particularly awesome adaptation was Mr. Heatmiser from the soundtrack of The Year Without a Santa Claus.[2] Not only did the horn section sound amazing, but they made awesome miser minions singing the background vocals.
In addition to the holiday music, BBVD also played several of their hits including Go Daddy-O, Mr Pinstripe Suit (with some incredible drum work), I Wanna Be Just Like You, You Me and the Bottle Makes Three. Appropriately enough, they closed with So Long, Farewell, Good-bye. After all these years these guys still put on an amazing and animated show.
The Cabot is closed for January for further renovations as the refurbish the balcony. If you get a chance, be sure to see a show at this historic location when they re-open in February.
[1] In fact, a good friend of mine plays in a swing band in the area. You can check them out at 
http://compaqbigband.com/
or on
Facebook
. [2] If you've never seen this, you've probably been living under a rock for the last 30 years, but you can see it
here
. 
Blue Christmas, 
around the 36 minute mark, still makes me tear up.