Coheed and Cambria at the Blue Hills Bank Pavilion – Boston, MA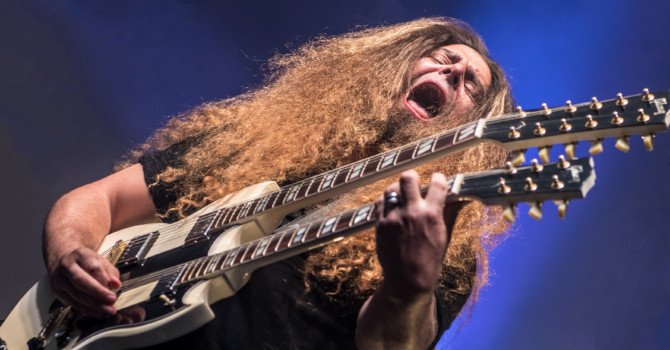 Photos and Review by Bethany Anna Packer
Galleries: Coheed and Cambria
Coheed and Cambria's highly anticipated Neverender GAIBSIV Tour stopped in Boston Tuesday night to open the season for the outdoor Blue Hills Bank Pavilion.  The tour features the progressive rock band's performance of their smash third album, 2005's Good Apollo, I'm Burning Star IV: From Fear Through The Eyes of Madness in its entirety.
Despite the unseasonably cold May night, fans turned up in droves bundled up to stay protected from the chilly winds coming off of Boston Harbor.
The instrumental intro to the album titled "Keeping the Blade" was played over the loud speaker as the stage lights slowly lifted, and lead Claudio Sanchez came out alone, acoustic guitar in hand.  The slow and steady beautiful sound of "Always and Never" captured the crowd's attention as Sanchez performed the tune alone with a microphone.
We all knew it was coming but no one was fully prepared for what was about to happen next.   Claudio switched out his acoustic for his double necked Gibson and the familiar plucking of the opening notes of the group's smash hit "Welcome Home" brought the crowd from a one to a ten as fans went insane.  The rest of the group joined Sanchez who was all guitar and hair as he spewed pure energy and rock deliciousness into the crowd.
The chilly air was quickly thawed as Coheed set the venue on fire playing track after track in the album's original sequence.  Strobe lights and trippy visuals backed the group who moved around the stage constantly, playing off of each other.
After the performance of Good Apollo, I'm Burning Star IV: From Fear Through The Eyes of Madness and a quick break the group returned to the stage for a 3 song encore including "Island" from 2015's The Color Before the Sun, "Delirium Trigger" from 2002's The Second Stage Turbine Blade and finally the title track from 2003's In Keeping Secrets of Silent Earth: 3, an eight-minute epic collection of great guitar riffing and shout-alongs.
As a Coheed fan, the show was everything I expected it to be and more, a pure demonstration of the musical genius that the band has upheld over the years.