Don Henley and JD & The Straight Shot at Blue Hills Bank Pavilion – Boston, MA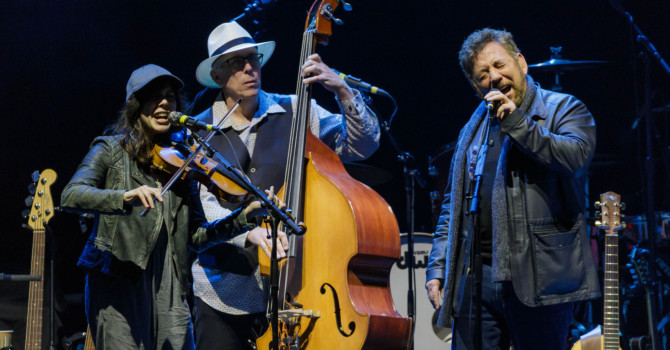 Photos and Review by Ilya Mirman
Galleries: Don Henley, JD & The Straight Shot
On one of the colder June nights in memory (47°F!), Don Henley, Jim Dolan and their bands came to warm up thousands of us huddled in the Blue Hills Bank Pavilion.  And warm us up they did, with three hours of some of the best music the past five decades have seen.
Opening for Henley was JD & The Straight Shot, a band expertly fusing folk, country, blues and rock.  Fronted by vocalist/guitarist Jim Dolan, the powerhouse band features musical all-stars: guitarist Marc Copely (B.B. King, Rosanne Cash), bassist Byron House (Robert Plant, Emmylou Harris, Dolly Parton), Violinist/fiddler Erin Slaver (Martina McBride, Rod Stewart), percussionist Shawn Pelton (Sheryl Crow, Natalie Merchant, Billy Joel, Saturday Night Live Band) and guitarist JJ Appleton (David Bowie, Keb Mo, Darius Rucker). The ensemble has supported The Eagles, The Allman Brothers Band, ZZ Top, Keith Urban, The Dixie Chicks, and the Nitty Gritty Dirt Band.
Opening with the carefree "Glide", the set was Americana in broad strokes.  The band's tight musicianship and high energy level made it particularly fun to go along for the ride that spanned songs of love, sin, redemption, and adventure.
Singing mostly their originals, the band closed with a killer version of Little Feat's Let It Roll – featuring plenty of solos and bandmates' interplay.
For a taste, check out "Better Find a Church," below.

As he often does, Henley opened with a cover of Steve Young's "Seven Bridges Road," with the amazing five-part harmony we've known and loved since 1980's "Eagles Live" concert album.
Next up were hits "Dirty Laundry" and "Sunset Grill" from Henley's early 80's solo work, followed by the Eagles' "Witchy Woman" and "One Of These Nights" from a decade earlier.  For fans of Henley's work with the Eagles and solo, the 19-song set offered a nostalgic and inspirational way to spend the evening.  Song after song, we were reminded just how much Henley has contributed to the soundtrack of our lives.
The 15-piece band helped bring the songs to life in a big way, with a rich tapestry of guitars, keys and brass.  Spanning mostly hits from the past several decades (flying solo and with the Eagles), the set also featured two covers – "It Don't Matter To The Sun" by Garth Brooks, and "Everybody Wants to Rule the World" by Tears for Fears.
Though there were thousands of us, Henley made the show feel intimate and familiar – he was at ease, reminisced about his New England adventures over the years, and joked with us about the unseasonably cold weather by singing a few lines from The Christmas Song ("Chestnuts roasting on an open fire…" etc.).
The summer tour continues for another month, and then Henley is back with the Eagles for a pair of festivals in New York and California (The Classic East and The Classic West).  Catch him if you can!
Set Lists
JD & The Straight Shot
Glide
Redemption Train
Nature's Way
Perdition
Violet's Song
Moonlight
Ballyhoo
Better Find A Church
Let It Roll
Don Henley
Seven Bridges Road
Dirty Laundry
Sunset Grill
Witchy Woman
One of These Nights
New York Minute
The Last Worthless Evening
The Cost of Living
It Don't Matter to the Sun (Garth Brooks cover)
Best of My Love
The End of the Innocence
The Last Resort
The Heart of the Matter
Everybody Wants to Rule the World (Tears for Fears cover)
The Boys of Summer
Encore:
Life in the Fast Lane
Hotel California
Desperado
Peaceful Easy Feeling
Don Henley
JD & The Straight Shot