High South at the River Club Music Hall – Scituate, MA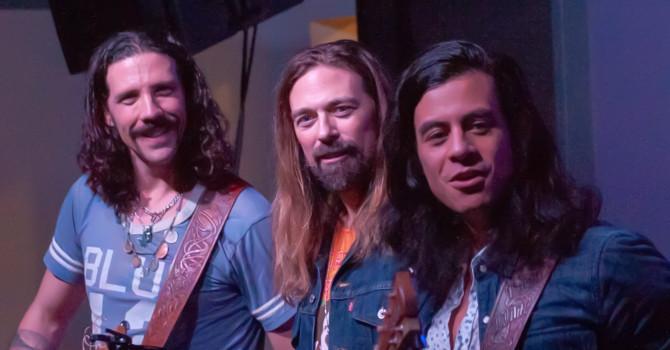 Photos and Review by Colleen Goyer
Show photos HERE
A packed crowd at The River Club Music Hall in Scituate Massachusetts welcomed the Nashville based trio, High South Friday night. I saw them back in August at the same venue and although they had a good crowd then, it was completely packed this time around. The band has been touring since that first appearance.
They performed for about 3 hours with a short intermission between sets. High South plays a full set of original music, including songs from a release coming up in the next few months. The second set was filled with covers from their musical influences, classic 70's era bands like The Eagles, Crosby Stills, Nash and Young and America. Their covers are incredible and very true to the originals. Phoenix Mendoza's solos are phenomenal. All three band members play acoustic guitars with Jamie Garner providing the majority of lead vocals as well as harmonica and assorted small percussion. High South's harmonies are really tight and reminiscent of the Eagles and their other musical influences.
The band of singer-songwriters shared how their trip to Joshua Tree had influenced their music including the song Joshua Tree, with Kevin Campos taking the lead vocal on this one.
The band makes a point of coming down off the stage and performing closer to the audience, which unlike many venues The River Club Music Hall is ideally suited for.
Checkout the band's website to give them a listen and see where they are headed next.