Journey and Asia at the DCU Center – Worcester, MA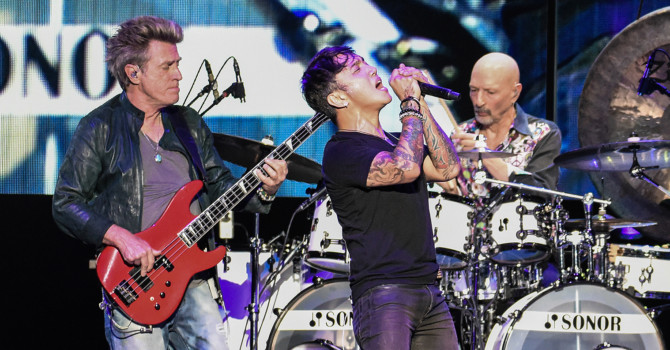 Photos and Review by Jim LaValley
Journey and special guest Asia stopped by the Worcester DCU Center to a sold-out show on a rainy June night. The skies opened up just after the doors opened and the walk/run to the arena wasn't fun. The crowd was mixed with young and older fans that packed in for a night of '70s and '80s classic tunes.
First up was Asia, which is a supergroup that was formed in London in 1981 that consisted of John Wetton of "King Crimson", Steve Howe of "Yes", Geoff Downes of "Yes" and "the Buggles", and the great Carl Palmer of "Emerson, Lake & Palmer".  The band's membership has changed a lot throughout the years, with numerous artists stepping in and out to collaborate.  Sadly, we lost John Wetton (lead vocals) in January of 2017 before the tour started with Journey.  Billy Sherwood of "Yes" has stepped in for vocals and bass guitar for this tour and I think he did his best.
Two members of the original lineup, Carl Palmer and Geoff Downes, helped create the classic sound of Asia.  English guitarist Sam Coulson joined the band in 2013 and jammed out the leads effortlessly. Sam joined the band after he was discovered from his YouTube channel on the Internet in 2012.  I thought that was pretty cool.
One of the best moments of the night was Carl Palmer's drumming performance, he put on a clinic that was a pleasure to witness.  His hand and foot speed was in full display during his drum solo with incredible double bass beats and drumming triplets up and down his toms with his classic hand grip of his sticks.  What a treat to watch how Carl Palmer demonstrated why he been such an influential drummer to so many.
Next up was Journey who came out with Arnel Pineda's high energy stage presence, Neal Schon's classic riffs and leads, and solid rhythm and keyboards that make up the foundation of their hits.  Fresh off their Hall of Fame induction ceremony in April 2017, Journey's fans were treated to an enjoyable night of blockbuster hit after hit along with 3 guitar solos.  What stood out to me in this performance was Neal's masterful powerhouse crisp driving sound that has helped cement himself as one of the greatest guitarists of all-time.
I have had the honor to see them back in the '80s, last year, and with this year's performance I have noticed something.  Arnel has not only evolved with the band, the band has also transformed around Arnel because of his high energy running, jumping, spinning, kicking, and dashing around the stage.  They have to be aware as he is dodging and weaving around the stage, which is a different dynamic that didn't exist with Steve Perry.
All in all, it was a night of classic tunes that you found yourself singing to.  If this tour is coming your way, it is worth a nice night out to see these legendary performers.
Journey:
Separate Ways (Worlds Apart)
Be Good to Yourself
Ask the Lonely
Neal Schon Guitar Solo #1
Stone in Love
Any Way You Want It
Neal Schon Guitar Solo #2
Lights
Jonathan Cain Piano Solo
Open Arms
Who's Crying Now
Edge of the Blade
La Do Da
Steve Smith Drum Solo
Neal Schon Guitar Solo #3
Wheel in the Sky
Faithfully
Don't Stop Believin'
Encore:
Escape
Lovin', Touchin', Squeezin'
Asia Setlist:
Wildest Dreams
Sole Survivor
Time Again
Don't Cry
Drum Solo
Keyboard Solo
The Smile Has Left Your Eyes
Only Time Will Tell
Heat of the Moment
Journey
Asia