Judas Priest at the Mohegan Sun Arena – Uncasville, CT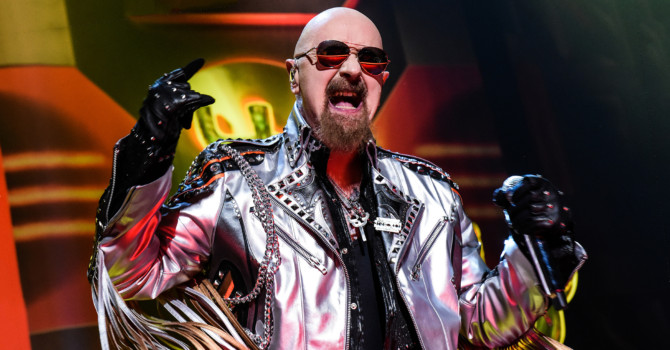 Photos and Review by Jim LaValley
Galleries:  Judas Priest, Saxon
"The Priest is back!", shouted Rob Halford to the heavy metal fans in Connecticut throughout the sold-out crowd. Judas Priest's Firepower World Tour stopped by the Mohegan Sun Arena on March 22, 2018 to support their "Firepower" album released March 9, 2018. Priest had 2 back-to-back sold-out shows in New England, this show marking the 6th show of the tour and the following night the 7th in Worcester, MA to another sold-out fan-packed show.
Judas Priest has gone through some member changes throughout the years. Glenn Tipton announced he is taking a different role with the band during the tour while he battles with Parkinson's disease. The Firepower album co-producer and guitarist Andy Snead is stepping in for Glenn on this tour. This is a high-pressure deal and big shoes to fill for Andy and I think that he stepped up and delivered the goods with solid rhythms while seamlessly trading solos with Richie Faukner. Richie replaced KK Downing in 2011 and I believe that he has injected a fresh burst of energy into the band. All you have to do is watch Richie play "Sinner," where he rips through this particular solo with Halford still killing it on vocals.
The setlist should be highlighted because they play a few new songs from Firepower and dug deep to put together a nice blend of heavy metal classics. The Firepower album is getting great reviews from fans and after giving it a few listens, it does makes you think that "The Priest is back!!" They opened with "Firepower" and then ripped into "Running Wild," "Grinder," "Sinner," and "the Ripper"!! For a treat, Priest is also playing "Saints in Hell" from their 1978 Stained Class album on this tour, which has never been played live before.
After 40 plus years on vocals, Rob Halford didn't shy away from any of his past iconic shrieks proving that he is still a Metal God. Ian Hill (bass) who is an original member and Scott Travis (drums) who joined the band in 1989 carried the rhythm that permits the band to shine with their dueling guitars and world class vocals.
Glenn Tipton came out for a surprise appearance for the encore and played "Metal Gods," "Breaking the Law," and "Living After Midnight" with the band.
British heavy metal band Saxon opened for Judas Priest to set the stage with some axe grinding sounds and 80's style vocals. Biff Byford who has been on vocals since 1977 belted out Denim and Leather, which brought back some good memories.
All in all, I would recommend buying the new Firepower album (which debuted #5 in the Billboard 200 album chart) and checking out this new tour for a night of kick ass Classic Metal!!
Setlist:
Firepower
Running Wild
Grinder
Sinner
The Ripper
Lightning Strike
Bloodstone
Saints in Hell
Turbo Lover
The Green Manalishi
Evil Never Dies
Some Heads are Gonna Roll
You've Got Another Thing Coming
Hell Bent For Leather
The Hellion
Electric Eye
Painkiller
Encore – with Glenn Tipton
Metal Gods
Breaking the Law
Living After Midnight
Judas Priest
Saxon