Peter Frampton and the Steve Miller Band at the Bank of New Hampshire Pavilion – Gilford, NH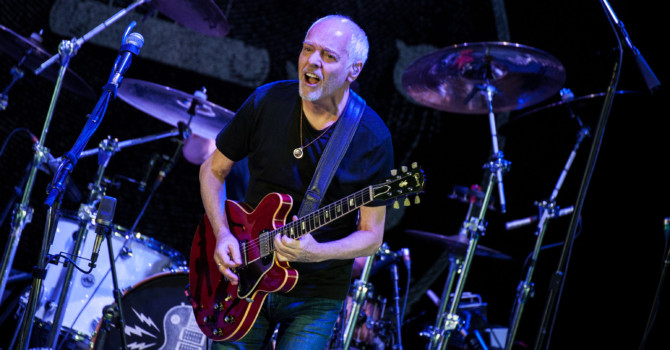 Photos and Review by Dave Nebbia
Galleries: Peter Frampton, The Steve Miller Band
Never seeing Peter Frampton before, I was very excited for this show. Not just because of his catalog of amazing songs, but the memories I had attached to all of those amazing songs. I couldn't believe I never took the time to see this man play before now. But here I am sitting at the front of house getting my camera gear together, and I cannot wait for this show to begin.
From the first note, we were all in for a treat! His band was locked in and just amazing. You knew he was only going to travel with amazing talented musicians… and boy were they! He started singing and the place just came alive as Frampton comes alive (pun intended). You could see the joy in the man's face to be back playing all of these songs again, and to see and hear the excitement in the crowd. It was like he had a permagrin on the entire night, and I can tell you, I for sure did.
He moved around the stage with grace and with conviction as he played all of the hits, and even some new tunes. He played a brand new song, "I Saved a Bird Today", and asked the crowd to be nice when it was over and to cheer as we would if it was one of his hits. Well, we didn't need to be told that because it was a beautiful song and the crowd responded to his request for sure! He was genuinely playful on stage, telling stories and making faces and just seemed like he was having a wonderful time up there.
His guitar playing was masterful. He played all of the riffs and notes with precise perfection. He is ageless and tireless in his craft, and it showed tonight. His voice was clear, and inspiring. One of the highlights for me was his tribute to Chris Cornell. He played "Black Hole Sun" on guitar and talk box while a video screen behind him played pictures of Chris Cornell. It was moving and impossible to watch with a dry eye. If you have not seen it, go to YouTube and make sure to watch it.
What a great show, and what a performer he still is! Go see him. Not just for his hits, but for the joy you will receive from being there and watching this man just nail all of these memorable songs that we have all grown to love.
And not only did I get to see Peter Frampton, I NOW get to see another guy and band I have never seen before, The Steve Miller Band. And much like Frampton, he has so many hits that I have just attached so many memories too. So again, I can't wait for this.
As he came out and stood in front of the mic to address the crowd, you just could just tell this man is beyond humbled to be up there that night to sing and tell stories for us all. And again, like Frampton, his band was just spot on and so tight. They were with Steve Miller all the way. He sounded just like I remembered him to sound from all of those records. He was ageless. His voice never wavered and neither did any of the performance.
After a few songs, he brought out Frampton, and the two of them talked about how they met, their music together and apart, and you could see such a great friendship these two have had through the years. They ended up playing a few songs and trading guitar parts and just having a blast. And everyone else equally enjoyed the ride we were on watching this.
After Peter exited the stage, The Steve Miller Band played one of, for me, the highlights of the night… "Fly Like an Eagle". The groove behind this song makes this song come to life. The band was amazing and Steve's voice continued to be spot on through this song, and through the night. I was also lucky enough to have a front row seat to this show. So after my three songs of taking pictures, I went down to watch the rest of Steve's set… right in front of him. This was just a great show by two great performers that had two great bands behind them. I would go see each of these guys independently. But, to have them both on a tour together is now a must see for any fan of either or both. You will not be disappointed, go see this tour.
Peter Frampton
The Steve Miller Band