Pop Evil at the Brighton Music Hall – Brighton, MA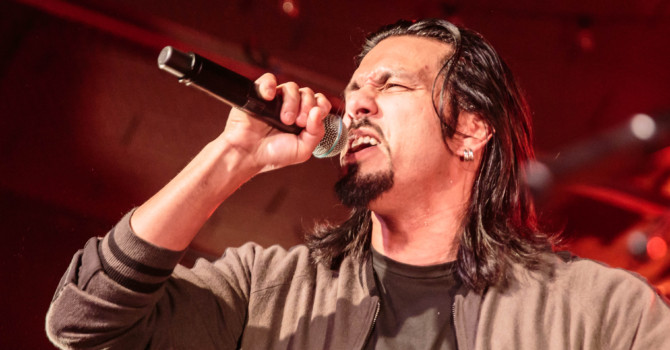 Photos and Review by Jeff Palmucci
Galleries: Pop Evil, Badflower
Pop Evil played the sold out Brighton Music Hall last week along with openers Badflower.
This is the first time I've heard Badflower and I was pretty impressed. They've got a killer rhythm section with complex beats and baselines. Put that together with a wailing lead guitar and Josh Katz's vocals and you've got a pretty compelling mix. Check out "Animal" online.
Pop Evil was out next and the crowd went pretty wild. This is the first tour with new drummer Haley Cramer, and I've gotta say that she's doing a great job. She puts on quite a show behind the drums, wailing away with amplified movements reminiscent of stuff I've seen from Arejay Hale.
Lead Leigh Kakaty was engaging (as always) with the crowd, commenting how he enjoys playing the intimate small venues the best, and what a rush it is to hear all your friends singing the words to your song back at you.
At one point he went out in the middle of the crowd and got everyone to crouch down with him as he started Footsteps, rising up when the lyrics got around to "go higher."
One freakin' adorable moment moment was when he invited a cute little girl that was standing in the front row up on stage. She looked like she was having a blast!
Although a good part of the set list was from the most recent album (2015's Up), there was a good mix of older stuff too.
I recommend you check both these bands out when the come around to your town.
Pop Evil
Badflower