Seether at the Palladium – Worcester, MA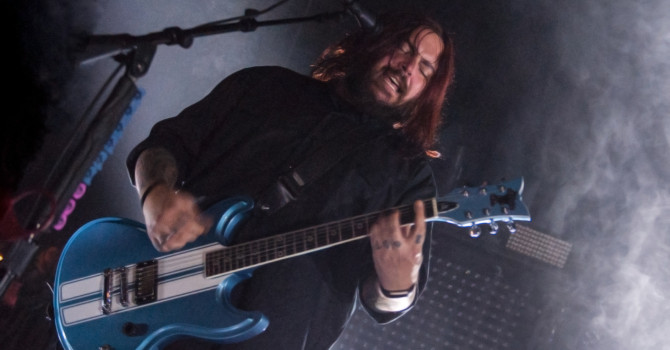 Review by Jim LaValley
Photos by Jim LaValley and Dave Nebbia
Galleries: Seether, More Seether, Shaman's Harvest
Seether's Poison the Parish Tour 2017 played the Worcester Palladium on December 1st on a cold brisk clear night with Sharman's Harvest. WAAF's Mistress Carrie (@MistressCarrie) presented Seether and Seether donated $1.00 from every ticket purchased on this tour to Suicide Awareness Voices of Education (SAVE). Seether founded the Rise Above Festival in 2012 and partnered with SAVE to raise awareness for suicide prevention and mental illness, a great cause.
Sharman's Harvest is another band that I was turned on to by @josemangin at SiriusXM. The best description that I can come up with is they "groove," meaning they hit a tone that radiates a strong feeling into the crowd. They opened up with their hit song "Dangerous" which rocked the house and set the stage for a great night of music. Sharman's Harvest next couple of tunes came from their new album Red Hands Black Deeds. Nathan Hunt had strong powerful vocals that balances with the band perfectly to create a unique groove that is pleasant and catchy. They ended the set with "In Chains" and "DragonFly" to prep the packed venue for Seether.
Seether's setlist was packed with influential smash hits that have filled the airwaves for almost two decades. They opened up with their classic grunge sound of "Gasoline," then continued with "Truth" and a new song "Stoke the Fire" off the new album Poison the Parish. Seether's new material sounds nice and heavy, they have a knack for creating fun songs that rock. Shaun Morgan's vocals was as sharp as ever and I love the overall sound that Seether has established over the years.
I noticed a pretty good shot while trying to adjust the settings on my camera by focusing down on Shaun's guitar pedals, so I took it. I thought it came out different with the overall lighting of the wood floor so I thought I would post. Clint Lowery from Sevendust also joined Seether on guitar and backup vocals to tour the United States. He rocked!! Dale Stewart (bass guitar) and John Humphrey (drums) carried the rhythm section seamlessly which drove each song and blended perfectly.
I took a step back during the show to observe the crowd. There is no doubt that Seether's fans are dedicated, you could see the passion they have as they were dancing in their seats and in the aisles. Seether's tunes are like rock-n-roll anthems, they will live on for years to come.
Go check out this tour to help support a great cause and for a night of kick ass music. You won't be disappointed.
Seether
Shaman's Harvest