Squirrel Nut Zippers at the Cabot – Beverley, MA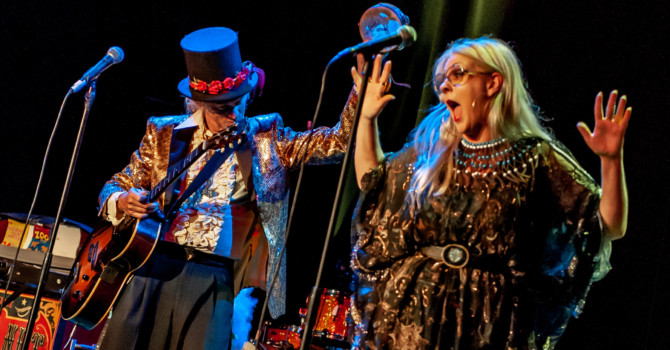 Photos and Review by Colleen Goyer
Show photos HERE
Friday night at the Cabot I was transported to New Orleans with the music of the Squirrel Nut Zippers providing the ride. The 2016 reformation of the band originally formed in 1993 is currently out on tour in support of their recent release, Beasts of Burgundy. Years back (20+ years!) when 1930's swing had a phase of renewed popularity, the band gained a following and had their album, Hot, go platinum. Jimbo Mathus, one of the members from the original lineup, provided vocals and guitar as well as telling jokes and acting as an M.C. within the band. Other standouts were Celia Blue providing the female vocals and Henry Westmoreland on Tenor and Baritone Saxophone. Dr. Sick was primarily on Violin, but he played an assortment of instruments throughout the set, as well as joining Mathus in the joking and M.C.'ish duties. He also supplied the most energy moving around the stage, pairing up with others during solos, and even jumping from the stage into the audience at one point, all while continuing to play the violin. The band's attire and the props on stage were from a New Orleans of many years ago. Celia must have had 6 or 7 costume changes over the course of the evening.
The set was made up of songs from earlier incarnations of the band such as Hell and Suits Are Picking Up the Bill with others from Beasts of Burgundy like West of Zanzibar. All the songs had the same jazz, blues, swing sound the band is known for. They even brought a few couples out of their seats, dancing at the edge of the theater. Some were even dressed in swing era clothing.
At the end of the encore the band marched off the stage, playing and walking through the audience, followed by members of the crowd, and then out to the lobby where they were available to sign items and talk to patrons as they filed out from the concert.