Stone Sour at the House of Blues – Las Vegas, NV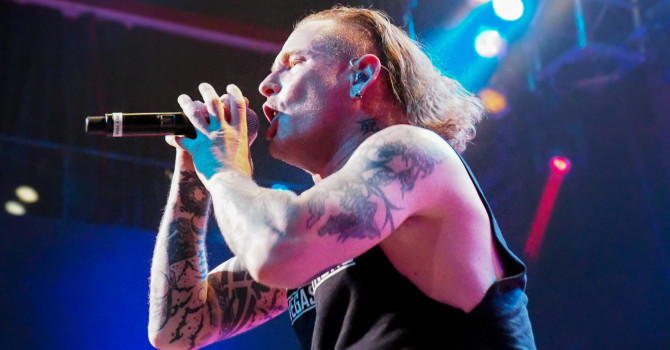 Photos and Review by Michelle Reilly
Show photos HERE
Nearly three weeks have passed since the October 1st shooting during the Route 91 Harvest music festival in Las Vegas. Stephen Paddock fired countless rounds into the crowd, killing 58, and injuring hundreds of others. For the first time since this tragedy took place, I stepped into the Mandalay Bay Hotel and Casino where Paddock propagated his heinous act from the windows of his 32nd floor suite. I'm excited to see Stone Sour, but I ached for those affected, including the many employees on the property who still suffer.
It's a sold out show at House of Blues, and there was an undercurrent of anticipation and need for release in the packed venue. Cherry Bombs were the opening act and were a great way to start the show. Beartooth followed, providing an intense warm up for the headliner. When Stone Sour stepped onto the stage, my heart warmed to see each member wearing #VegasStrong T-shirts.
Their set included a mix of old, and many from their new album Hydrograd. Hesitate, which they hadn't performed for some time, was truly a stand out. Singer Corey Taylor jumped and ran around the stage, shot confetti and streamers onto the crowd, bringing a much-needed festive air. Taylor, who now lives in Las Vegas, paid tribute to the injured and fallen of the shooting, sharing his heartbreak at what happened to his 'home.' They closed with Fabuless, giving this Vegas girl a fresh breath of life into her musical soul.