The Magpie Salute at the Cabot – Beverly, MA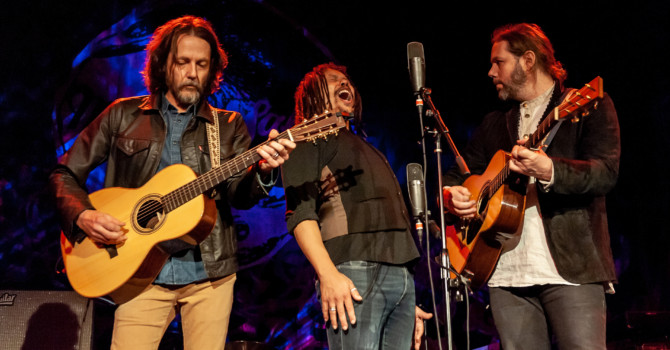 Photos and Review by Colleen Goyer
Show photos HERE
The Cabot in Beverley Massachusetts was packed for The Magpie Salute Friday night. The band performed two, 1-hour sets, one acoustic and the other electric. They hit upon songs from various projects of the band members including The Black Crowes, Rich Robinson's solo work and Marc Ford & The Neptune Blues Club. The sets also included covers of Bob Dylan, Neil Young and other artist's work. The night started out with just three members, all on acoustic guitars and contributing vocals. The rest of the band joined in around song six for the remainder of the set. Rich Robinson did the majority of the guitar solos including a lot of slide guitar.
The crowd rose to call out Eddie repeatedly during a piano solo in tribute to late band member Eddie Harsch.
Everyone stood up for the entire concert, clapping and calling out to the band. The crowd was really involved and into the music and showed appreciation all evening.
They continue with dates in New England before heading south.
Set List
Acoustic
High Water
Sister Moon
Cold Boy Smile
You Don't Have to Cry
Hand in Hand
You Found Me
Hot Burrito #2
That's What My Heart Needs
Good Friday
Descending
Electric
Mary the Gypsy
Take It All
The Vulture
Big Time
Ballad of a Thin Man
I Remember
Can You See
Walk Believer Walk
Sting Me
Send Me an Omen