U2 at the TD Garden – Boston, MA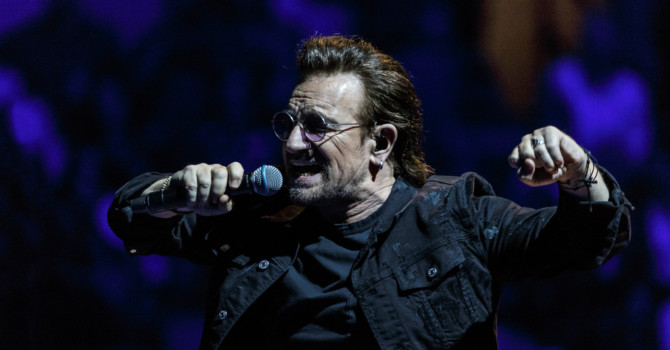 Photos and Review by Ilya Mirman
Show photos HERE
The last time I saw U2 was the summer tour of 2017 – and it was the most visually stunning concert experience I've ever seen.  Their stage featured the largest and highest resolution LED video screen ever used in a touring show – at 200ft x 45ft, it was nearly the full width of the stadium.  The high res footage, synchronized with their setlist, was an absolutely remarkable sight and experience.
And so while looking forward to the current tour, I wondered what they could possibly do to continue raising the bar and pushing the envelope artistically.  Needless to say, U2 brought their A game to The Garden!
The setup was, again, innovative. There were two stages at either end of the arena, and a novel moving screen/platform/catwalk that doubled as a third stage.  The setlist was split across all three locations – ensuring that every seat was a great seat for at least a third of the show.  Though I've seen long catwalks, and even a second stage before, I haven't before seen a band make full use of the entire length of an arena for long periods of time – and the fans went crazy.  Here's arguably one of the biggest bands in the world – going through the effort of ensuring that they connect with as many fans as possible, transforming a sold-out concert into a series of intimate shows.
Unlike last year's tour which celebrated and focused on the 30th anniversary of the Joshua Tree album, this set list spanned U2's broad discography, featuring their anthems, hits, and deep cuts from their four decades (!!) together.  I gotta say – it's surreal for those of us that grew up on U2 to see them, so close, so powerful, so innovative, all these years later.
The band is tight, cohesive, with each member's individual personality coming across.  Bono the larger-than-life frontman; The Edge with the familiar, unique guitar sound; cool and stoic Adam Clayton on bass; and Larry Mullen's drums providing the solid foundation to the ambitious, thundering show.
An iconic band into their 5th decade together, U2 puts on a unique show with a zeal that burns a permanent imprint on the music fan's brain.  The experience covers all the senses, and it's nearly impossible to avoid singing along.
The 2018 tour is in full swing – catch it if you can!! https://www.u2.com/tour
Setlist
Love Is All We Have Left

The Blackout

Lights of Home

I Will Follow

Gloria

Beautiful Day

The Ocean

Iris

Cedarwood Road

Sunday Bloody Sunday

Until the End of the World

Elevation

Vertigo

Desire

Acrobat

You're the Best Thing About Me

Staring at the Sun

Pride

Get Out of Your Own Way

American Soul

City of Blinding Lights